Estate planning attorneys from RhodesLawFirmPC.com make pledge to help clients protect assets and plan for their loved one's futures with sound legal advice, guidance and services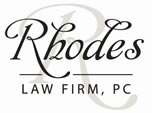 Augusta, GA – August 31, 2017 /MarketersMedia/ —
According to statistics, 51 percent of adults between the ages of 55 and 64 don't have a will. Additionally, 92 percent of adults under the age of 35 have never had a will drafted. While the numbers related to estate planning are shocking, it is an alarming trend that is continuing to be seen generation after generation. The disregard for planning for the future has left many families confused and unsure how to proceed after a loved one unexpectedly passes.
In an effort to help encourage everyone, of all ages and genders, to begin thinking about their future and planning for the unexpected, The Rhodes Law Firm has launched a campaign offering estate planning services.
"Many people use all types of excuses regarding why they don't have a will and why they haven't utilized any type of estate planning service," stated a representative from the Rhodes Law Firm. "One of the most common excuses we hear is that they don't have any money or valuable assets. However, Estate Planning isn't about the money or assets you have, but rather about protecting what you have now, and after you are gone."
Another important part of Estate Planning is creating a health care power of attorney. This is what grants someone legal authority to make medical decisions if a person becomes incapacitated. It is estimated that only about 50 percent of all adults in the U.S. have this power of attorney in place with the younger generation not realizing the importance of it. For example, 83 percent of people over the age of 72 have this document, compared to just 41 percent of millennials.
"When it comes to Elder Care and planning for the future, there is no way to know what is going to happen," continued the representative from Rhodes Law Firm. "This is why it is so important for everyone to make plans and take action now. We offer affordable services and free consultation services, so there is no reason to wait."
Additional information about estate planning services provided by the Rhodes Law Firm is available online.
ABOUT THE RHODES LAW FIRM
The Rhodes Law Firm is made up of a team of legal professionals who are dedicated to elder care law and helping everyone, of any age, with estate planning. The legal professionals have the ability and know-how to provide clients with the services they need when planning for their future and after they pass away. In addition to free consultations, the law firm also offers free workshops about estate planning to help inform and educate potential clients.
Contact Info:
Name: Rhodes Law Firm
Organization: Rhodes Law Firm
Address: Augusta, GA 30907
Phone: (706) 724-0405
Source URL: https://marketersmedia.com/rhodes-law-firm-launches-campaign-encouraging-clients-to-plan-for-the-future/235291
For more information, please visit http://www.rhodeslawfirmpc.com/
Source: MarketersMedia
Release ID: 235291