Ballerz Stuns The World Of Male Underwear With Ergonomically Designed Boxer Briefs
United States – May 23, 2022 —
Made from high-quality Tencel fabric with incredible moisture absorption properties, the all-new breathable Ballerz Boxer Briefs is redefining the standards of comfort with its ergonomic patent-pending 3-D convex design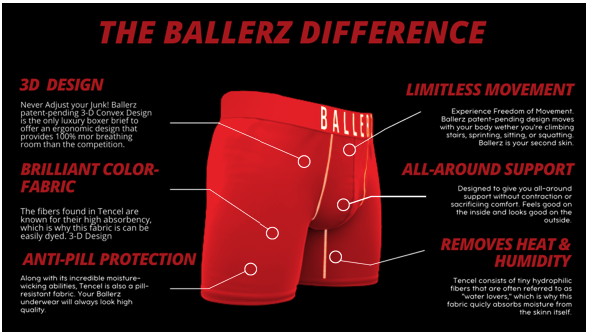 Ballerz has apparently stunned the world of male underwear with its Ultimate Performance Underwear that's ergonomically designed. The men's luxury underwear brand recently unveiled a new line of boxer briefs – made with its patent-pending 3-D convex design, that provides ultimate support and improves performance.
As more and more brands continue to dive into the saturated world of male underwear, consumers are finding it difficult to find products that are both comfortable and sustainable.
While women have a lot of credible options to choose from when seeking top-quality underwear, men, on the other hand, are left with very few viable sources, as the majority of the players in the industry operate with the notion that men don't just care about the quality of their underwear.
According to Ballerz, while many other male luxury brands try to cut production costs and maximize profits by opting for the cheaper fabrics, the brand's team has spent a lot of time and resources researching the best fabrics in the market that could provide consumers with a truly premium wearing experience.
"We've made it our goal to become the Victoria's Secrets of male underwear. We want to correct the misconception that men don't care about the quality of their underwear. We know that the testicles are one of a man's most prized possession and so it is important to house them in fabrics whose texture and chemical composition are both safe, comfortable, and sustainable."
Made from high-quality Tencel fabric with an incredible 50% more water absorption capability than cotton, the new Ballerz Boxer Briefs is currently the most comfortable and breathable male underwear available in the market.
Mainly used by activewear and sportswear brands, Tencel is a light and versatile material with incredible moisture-wicking abilities. The amazing fabric is less susceptible to odorous bacteria growth and is also highly pill-resistant, ensuring that the boxer briefs look sharp and maintain their vibrant colors regardless of how frequently they are washed.
Unlike cotton-poly blend fabrics that require the addition of chemicals to absorb moisture, the Tencel fabric used in the manufacturing of the Ballerz Boxer Briefs possesses tiny hydrophilic fibers also known as "water lovers" that quickly absorbs sweat to leave the wearer dry and comfortable all day long.
The innovative 3-D pocket design on the Ballerz Boxer Briefs offers all-day comfort and protection in all types of climates. Made for the modern man, the new amazing name underwear comes in a variety of color-rich styling, with brilliant hues that complement any ensemble.
Ballerz insists that its new boxer briefs will neither pull, contract, or bind, giving wearers the freedom to comfortably engage in all kinds of activities without fear of limitation.
"Our Ballerz Boxer Briefs are the modern choice for the modern man. It doesn't matter whether you have to deal with the summer heat or run away from the winter cold. Our boxer brief will be with you like a second layer of skin through every step of the way."
In addition to creating the most comfortable pair of underwear for men, Ballerz has identified itself as a socially conscious brand by supporting the Baller Dream Foundation in its mission to lift the spirits of brave young warriors and their families fighting cancer.
The men's luxury underwear brand has revealed that it will join in raising awareness of the charity organization's laudable activities and also donate a portion of its sales to supper it on its mission.
"At Ballerz, we believe that we all have the power to make a change in the world. If we work together, we can make the world a better place. This philosophy forms part of our ethos, driving everything that we do at Ballerz."
Anyone interested in learning more about the new amazing Ballerz Boxer Briefs can visit the company's online store www.ballerz.us to check out available sizes and color options, or reach out to the brand directly by emailing us at sales@ballerz.us
Contact Info:
Name: Scott
Email: Send Email
Organization: Ballerz
Address: United States
Website: http://ballerz.us/
Release ID: 89075504
If you detect any issues, problems, or errors in this press release content, kindly contact error@releasecontact.com to notify us. We will respond and rectify the situation in the next 8 hours.
Go Top