Beyond The Music With Gotta Grind Syndicate
Talented American rappers and brother duo, Big NoNamee and Lil Coto, continue to challenge the status quo in the industry amidst rave reviews for their singles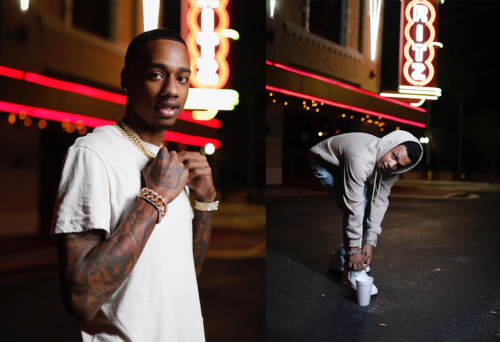 FL, United States – December 30, 2021 —
The duo of Big NoNamee and Lil Coto, fast-rising American rappers and founders of Gotta Grind Syndicate, an independent record label, looks poised to deliver all shades of amazingness to music lovers across the globe. The collective and record label is already gaining ground not only in Jacksonville, Florida but in different parts of the world, with the works of Big NoNamee and Lil Coto enjoying massive airplay and streams across platforms.
The music industry continues to evolve as more talented acts emerge in different parts of the world to entertain fans. Rap remains one of the oldest genres in the world of music, standing the test of time, amidst a series of evolution. However, Big NoNamee and Lil Coto have literally stormed the rap game in recent times, delivering amazing punchlines on banging beats to bless the ears of lovers of good music worldwide.
Born March 23 1998, the 23-year-old Nicholas James Evans, known professionally as Big NoNamee, has grown over the years, honing his skills and creating a unique style that has endeared him to rap lovers. The Florida native, otherwise known as GGS NoNamee, is a father of one, member and founder of the collective and record label Gotta Grind Syndicate, with his brother, Lil Coto, completing the duo. Big NoNamee dropped his single Big Guwap to an amazing reception and he has followed up the feat with other captivating works.
Henry Virgil Noble, known professionally as Lil Coto, is an American rapper and singer from Jacksonville, Florida. Born June 23, 2001, the 20-year-old talented singer also known as GGS Coto a member and founder of the collective and record label Gotta Grind Syndicate. His sibling is Big NoNamee, who also doubles as an associate act.
The duo is making a name in the industry even as solo acts, with Big NoNamee's "Coldhearted" single gaining over 160k streams across all platforms. He has also followed up with a release called "Big Guwap" which features his first-ever music video that gained 20k views in less than a month. Lil Coto also has several songs on the brink of release. Consequently, music fans can expect lots of great songs from him as well as works featuring both artists together.
For more information about Big NoNamee and Lil Coto, follow them on their official social media handles – GGSNoNamee, GGS_Coto, and GottaGrindSyndicate.
###
Contact Info:
Name: Marisleysis Castro
Email: Send Email
Organization: Gotta Grind Syndicate
Website: https://youtube.com/channel/UC3TEN8H8xgQS7fKPfMZA05g
Video URL: https://youtube.com/channel/UC3TEN8H8xgQS7fKPfMZA05g
Release ID: 89057595
Go Top