Canberra Noise Induced Hearing Loss NIHL & Deafness Specialist Report Released
Seeking to help individuals save their hearing or prevent further loss, audiometrist Helen King from Hearing Solutions, a hearing clinic based in Canberra, Australia, has released a report on noise induced hearing loss. The report defines research findings and discusses ways to avoid deafness.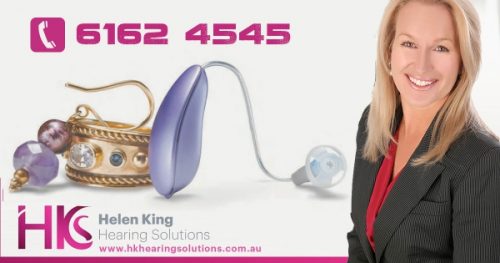 Griffith, Australia – August 22, 2017 /PressCable/ —
Griffith, Canberra-based, Helen King Hearing Solutions, a hearing clinic that offers the highest standard of health care, has released a report on noise induced hearing loss (NIHL) and deafness. This report states that hearing loss is a major problem in Australia and focuses on what causes hearing loss and how individuals can better protect their hearing.
For more information visit http://hkhearingsolutions.com.au/hearing-assessments-canberra/noise-induced-hearing-loss-and-deafness-problems.
Recently released, the report entitled "Noise Induced Hearing Loss" notes that most issues of deafness are the result of noise induced hearing loss (NIHL). In fact, according to the report, more than 17% of Australians have a hearing problem that is a result of too much noise.
Noise induced hearing loss, says the report, results when loud noise harms the hair cells in the inner ear, often resulting in irreversible damage. Two factors that reduce hearing are listening to loud music and industrial noise caused by power tool operation. According to the report, most power tools have a noise rating of over 100 decibels. Levels of over 85 decibels or more can harm hearing.
Research studies show that other sources of hearing loss, states the report, include firearms, concerts, MP3 players and other audio devices, as well as riding a motorbike or snowmobile or operating farm machinery. Some children's toys are also too loud.
Canberra audiologist, Helen King, the certified hearing specialist at Hearing Solutions offer assistive listening devices, as well as styles of hearing aids. The audiology clinic also provides hearing tests, hearing aid repair and a free hearing aid trial.
When asked about the service offered by Hearing Solutions, one customer said, "As a lifelong hearing aid user who had recently moved to Canberra, I visited Helen King Hearing to obtain replacement hearing aid tubes. Helen King turned out to be a personable and experienced audiologist who could discuss a wide range of hearing and deafness related topics such as NDIS, the history of hearing services in Australia, psychological aspects of being deaf and more. As she attended to my hearing needs, we had a great conversation and I learned a few useful tips on the way. By the end of the appointment, I felt as if I had made a new friend. I look forward to visiting Helen King again, when I need to replace my hearing aids."
To find out more about Helen King Hearing Solutions and learn why she is the audiologist Canberra trusts, call 02 6162 4545 or visit http://hkhearingsolutions.com.au.
Contact Info:
Name: Helen King
Organization: Helen King Hearing Solutions
Address: 1/30 Bougainville Street, Griffith, ACT 2603, Australia
Phone: +61-2-6162-4545
For more information, please visit http://hkhearingsolutions.com.au
Source: PressCable
Release ID: 231577
Go Top