Concrete Coatings Business Achieves Second Generation Status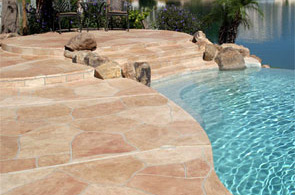 November 12, 2015 – – Arizona Creative Surfaces, a business based in Mesa, AZ, is celebrating the fact that, after 30 years, they are now a second generation business. Dave Eaton's father started CenturyStone Concrete Coatings, and Dave himself is taking his father's teachings further in his own business. He continues the traditions his father started when he opened up the first business.
"I was born and raised in the concrete coating industry and I always knew that I would stay in that world for the rest of my life," says Dave Eaton from Arizona Creative Surfaces. "I am proud to be able to carry on my father's legacy, and to have a team behind me who are not just work colleagues, but lifelong friends as well."
Dave Eaton initially went into an apprenticeship with his father when he was just 15 years old. During that time, he was responsible for field testing CenturyStone Concrete Coatings, his father's business. He also assisted production crews within the installation company. Two years later, he was running his own crew. He went on a mission to Santa Maria in Brazil when he was 19 and, returning at 21, he became the General Manager in his father's business. During that time, he oversaw four individual crews and managed a variety of projects.
"I formed Arizona Creative Surfaces in 2007," explains Dave Eaton. "My goal was to deliver the highest quality work, sustained success and, most of all, high customer satisfaction. To achieve that, I brought my brother Nick on board, as well as my lifelong coworkers and friends, the Sanchez Brothers. We are all true concrete artisans and we form an amazing team."
Each of Eaton's team members were trained and certified by CenturyStone, Inc. and they have all of the necessary bonds and licenses. Everyone in his company, from receptionist to general manager, are fully field trained. They specialize in the installation of pool deck coatings with an emphasis in there trademarked naural stone finishes. Their combined knowledge helps to create the most beautiful concrete surfaces for their customers.
All of the work are done in house and no part of the job is completed by a subcontractor. From pool deck repair to brand new installations, the company is ready to take on the job.
###
Contact Arizona Creative Surfaces:
Dave Eaton
480-545-1154
dav@azcreativesurfaces.com
2351 E. Kenwood St.
Mesa, AZ 85213
ReleaseID: 60005293
Go Top