Condense Scientific Achievements of Life to Empower Public Health
On-the-spot Report of Zhongjian Longevity Syrup Biotechnology Co., Ltd. on Developing Health Industry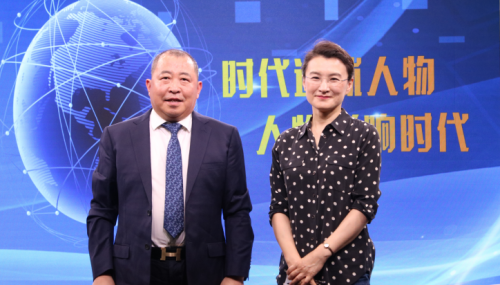 November 30, 2021 /PressReleaseAgency/ —
Many people who have contacted Chen Jubao, the new figure of China's health industry, feel his extraordinary vision, confidence and pattern. His vision comes from profound acknowledge and judge on the situation of global great health industry, precise control to the connotation and development pattern of "Healthy China Strategy". His confidence comes from skills he has mastered and the technological contents, brand influence and market reputation of the products. His pattern comes from his original intention to serve public health wholeheartedly and to fulfill the entrepreneurial social responsibilities with a firm hand.
The documents released by China such as The Planning Outline of "Healthy China 2030' and Healthy China Action (2019 to 2030) proposed a clear direction and worked out an advancing "roadmap" by "emphasizing prevention and strengthening early intervention", "advocating a healthy and civilized lifestyle and extending life expectancy" and "making efforts to prevent and reduce illness among the people". Now, Chen Jubao and his team of Zhongjian Longevity syrup Biotechnology Co., Ltd. (hereinafter referred to as "Zhongjian Longevity Syrup Corporation") will continue to strive for life science, strengthen efforts on research and development and provide the public with longevity syrup products that are effective in anti-aging and stimulating human vitality to make health near at hand and realize the good expectation of "wishing people to have a long lifetime".
Developing Health Industry on the Basis of Scientific Innovation
Chen Jubao knows that scientific innovation is an exhaustless power for enterprise development. Especially in drug and healthcare product market with keen competition, it is necessary to master core technologies and have high quality products with outstanding features to win the right of speech and competitiveness.
Chen Jubao's Zhongjian Longevity Syrup Corporation is a high-tech enterprise integrating science, industry and trade with a registered capital of 100 million yuan. The company mainly develops and produces longevity syrup turtle peptide compound drinks, turtle fish peptide compound drinks, Chinese yam yellow essence compound drinks, yellow essence Chinese yam prepared wine and other series products.
"Prof. Jiang Songbai, the chief scientist of our company, has spent nearly 40 years of painstaking efforts on the research of longevity syrup products." said Chen Jubao, "He has a great point that he has found out relevant substances that regulate protein and nucleic acid substance synthesis rate and organized differentiation 'regenerative cell' to form longevity syrup products."
It is learned that in 2004, "longevity syrup" obtained the National Drug "Permitted" batch number (B20040003). In 2005, it obtained the national invention patent certificate (ZL2005100031849.6). In 2017, it passed drug GMP certification of the People's Republic of China. In 2021, it obtained Food Production License SC10637078403173. The product has been well received from all sectors of society since it appeared on the market.
In Chen Jubao's opinion, the invention achievements are hard-earned and cannot present their value and significances indeed unless by overcoming all difficulties, transforming scientific and technological achievements into productivity and benefiting more common people. For this reason, he analyzed and distributed the market carefully, focused on large-scale production vigorously, and paid close attention to production benefits, social benefits, livelihood benefits and other win-win.
It is learned that Zhongjian Longevity Syrup Corporation is situated in Economic Development Zone of Anqiu City, Shandong Province. The factory construction covering an area of approximately 50,000 square meters has begun to take shape. The first-stage project has been constructed and put into operation. The daily output has reached 400,000. The total construction area including workshops, warehouses, office buildings and reception buildings is approximately 10,000 square meters. Production lines and a life science academy covering an area of 20,000 square meters are planed to construct.
Discovering the Secrets of Cell Decay to Develop Anti-aging Products
Speaking of the core technology and products of Zhongjian Longevity Syrup Corporation, the chief scientist Jiang Songbai is wonderful who cannot be neglected. Prof. Jiang Songbai, was born in Changde County, Hunan Province in September 1953. When he was in high school, he was enlightened by his teacher that "whoever can solve the problem of aging means a great contribution to mankind" so that he made up his mind to engage in research on aging and anti-aging and has made his contribution to life science research of China and the world especially anti-aging research.
After thousands of experiments, he successfully extracted substances that regulate the relative synthesis rate of nuclear matters and protein from living tissues of animals (some fish and turtles) and finally he successfully developed "longevity syrup" oral liquid, the anti-aging health care medicine. An animal experiment by Institute of Genetics, Shanghai Fudan University proved that "longevity syrup" could reserve aging of animals and break the natural length of life of experimented animals and extend its lifetime greatly. The clinic experiments Shanghai Sixth People's Hospital and Clinic Pharmacology National Training Center of Hunan Medical University presented that "longevity syrup" not only can strengthen the body's immunity and resistance, extend absolute length of human life, but also plays supportive therapeutic efficacy to various illnesses.
In 1995, the appraisal result of scientific and technological achievements jointly by Health Department of Hunan Province and Science and Technology Commission of Hunan Province showed that, "'Longevity Syrup' is a major scientific and technological achievement in human body health care research. Especially under instruction of fire-new theory, after repeated verification on theory and practice, the product with particular technology is proved to have evident anti-aging and health care effects and has reached domestic leading level."
For the innovative achievement of "longevity syrup", Andrews, the former chairman of World Anti-aging Society, called it "a revolutionary breakthrough of anti-aging". In November 2020, "Longevity Syrup Brand Yam Yellow Essence Compound Drink" won the special gold medal of the 105th Panama International Exposition, making a figure on the world stage of scientific and technological achievements.
Contact Info:
Name: Media Relations
Email: Send Email
Organization: Global News Online
Website: https://www.globalnewsonline.info/
Source: PressReleaseAgency
Release ID: 89054941
Go Top