Depression After Knee Replacement Common and Should Be Addressed
Studies show that depression after a knee replacement is more common than in other surgeries and correlated with worse outcomes. Coloring book promotes laughter and stress relief in patients as an antidote to depression.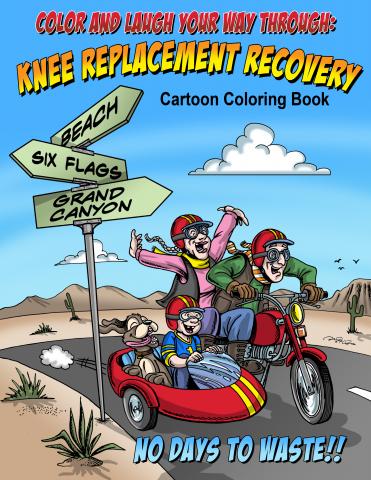 Buffalo NY, United States – July 5, 2018 /PressCable/ —
Best selling knee replacement coloring book has more relevance now than ever.
A new research study "Perioperative inpatient Use of Selective Serotonin Reuptake Inhibitors Is Associated With a Reduced Risk of THA and TKA Revision," recently published in the June 2018 edition of Clinical Orthopaedics and Related Research found that treating depression with selective serotonin reuptake inhibitors resulted in lower revision rates with knee replacement surgery.
The co-author, Hilal Kremers M.D. explained, "Arthritis patients with chronic joint pain commonly present with depression and various other mood disorders."
"Previous studies suggest that when depressed arthritis patients undergo total hip or knee arthroplasty, they continue to experience worse functional outcomes, more surgical complications and more hospital readmissions."
In this study, use of a particular class of depression drugs was found to lower complication rates of knee replacement surgery.
While the studies authors used a class of drug to treat the depression associated with knee arthritis, Stiles, PT., the author of Color and Laugh Your Way to Knee Replacement Recovery suggests that coloring as a stress reliever and laughing as an antidote for depression could also be useful to patients in the post-surgical recovery period to keep patients positive and optimistic.
The knee replacement coloring book consists of 20 full page illustrations designed by expert illustrator Dave Allred to bring irreverently humorous scenarios to life: scenarios that help patients turn the table on their frustrations and challenges and instead poke fun at them.
While taking pain medication generally limits more robust intellectual activities like reading and doing work at home, patients have found that coloring pages is a suitable alternative that provides hours of calming diversionary activity.
The Mayo Clinic reports that clinical research backs up the idea that laughter is good medicine. In fact, laughter doesn't just lighten your mental load but it can actually induce bodily changes such as stimulating organs, activating and relieving your chemical stress response and soothing tension in stressed muscles.
Patients and caregivers alike are having great fun with the book, noted Stiles. "We know now that many knee replacement patients are struggling with depression as well as the challenges of the surgery itself."
Stiles suggests that instead of picking up a get-well card, flowers or even candy which is detrimental to recovery, loved ones could give the gift of laughter and enjoyment to bolster patient's spirits and promote physical well-being during the recovery period.
Michelle Stiles PT, MS, FDN-P, PN2 is the founder of No Days To Waste, a company dedicated to empowering patients with proven solutions to knee replacement recovery. She is the inventor of the FLEX Bar, a tool to promote knee range and a lifelong advocate of taking personal responsibility for health.
Contact Info:
Name: Michelle Stiles
Email: michelle.stiles@gmail.com
Organization: No Days To Waste
Address: 2175 Bullis Rd Elma, NY, Buffalo NY 14059, United States
Phone: +1-716-202-2909
For more information, please visit http://NoDaysToWaste.com
Source: PressCable
Release ID: 370592
Go Top