HCK3R Antibacterial Smart Gloves Keep Hands Germ-Free While Enabling Complete Touchscreen Use
Live on Kickstarter, HCK3R Gloves are Lined With Pure Silver, Touch Enabled, All Season, Weather Resistant and Hypoallergenic.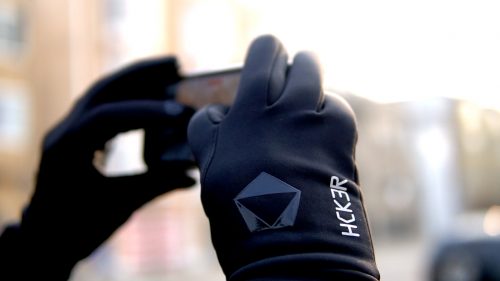 San Francisco, CA, United States – February 22, 2021 /MarketersMedia/ —
HCK3R™, the revolutionary new antibacterial smart gloves from Arxtec are designed for today's mobile and modern society. Their product launch is now live on Kickstarter, and is experiencing breakout crowdfunding success, having already surpassed their initial raise goal by 500%.
Modern life often requires people to seamlessly move from one environment to the next, which can mean encountering a wide variety of potential hazards. From the dangers of a pandemic to the sometimes harsh elements of the great outdoors—HCK3R™ Gloves offer a sleek, all-season solution that protects hands in all elements, while allowing wearers to enjoy a range of daily activities.
"We realized that the safety needs of people on-the-go were not being met. Travelers in today's challenging environments need protection that is versatile and functional, with antibacterial features," says founder and CEO Benjamin Zuiker on the inspiration behind the project. "HCK3R™ Gloves were engineered with protection and comfort in mind. Built and tested to outlast and outperform competing gloves on the market."
HCK3R™ Gloves are patent-pending and made with a 99.9% pure silver lining called SLVRTEC™, which utilizes natural silver to inhibit germ growth through a process called ionization. The gloves are fully touch enabled so they can be worn and operate a wide variety of touchscreen devices and phones without needing to be removed. HCK3R™ gloves have been tested in climates ranging from 29°F-79°F. They feature a thin layer of micro-fleece to keep hands warm in colder temperatures. Glove moisture works to activate more antibacterial strength through ionization of the SLVRTEC™ layer.
The gloves have been designed with sustainability in mind. By utilizing one pair of gloves that can be reused multiple times, HCK3R™ helps prevent the waste of single-use nitrile/vinyl gloves.
"With travelers and commuters using disposable nitrile gloves and masks at an increasingly excessive rate (193 billion per month globally), a smarter and more sustainable glove and mask is a must-have. The current pandemic is creating exponentially more plastic waste that ends up in landfills and the oceans. HCK3R™ gloves help to reduce this increasing level of pollution," adds Zuiker.
HCK3R™ Gloves by Arxtec is currently live and available to support on Kickstarter: www.kickstarter.com/projects/arxtecdesign/hck3r-gloves-antibacterial-smart-gloves
About Arxtec
Founded in San Francisco 2019 by technology entrepreneur and award-winning director Benjamin Zuiker (www.benjaminzuiker.com), Arxtec was established with the goal of becoming a global product design innovator. Arxtec is focused on creating a new standard that meets the environmental challenges of the 21st Century. Arxtec delivers high-quality products at competitive prices for the growing population of commuters, travelers and outdoor enthusiasts. Arxtec products are made by passionate people who design products fusing function and cutting edge technologies using all new methods. Arxtec's mission is to architect the future of innovative, sustainable product design.
For more information on Arxtec please visit www.arxtecdesign.com/
###
Contact Info:
Name: Chris Woods
Email: Send Email
Organization: Arxtec
Website: http://www.arxtecdesign.com
Source URL: https://marketersmedia.com/hck3r-antibacterial-smart-gloves-keep-hands-germ-free-while-enabling-complete-touchscreen-use/88998425
Source: MarketersMedia
Release ID: 88998425
Go Top