Industrial Plastic Supply, Inc. Announces Polycarbonate Sheet As Plywood Alternative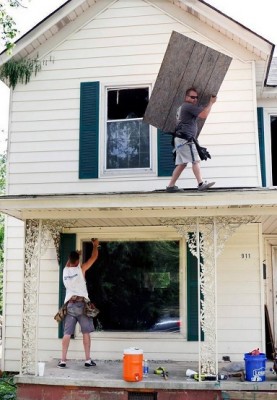 June 06, 2015 – – Anaheim, CA based company, Industrial Plastic Supply, Inc., has announced that polycarbonate sheets may just be a better alternative than plywood for window covers. They have suggested that those involved in the plastic industry have known that this was a better option for more than fifty years, as the plastic sheet is durable and lasts through far more wear than other materials.
.
The company boasts a number of benefits for a Polycarbonate sheet as a replacement to plywood coverings. Outside of simply being durable and long lasting, they also suggest that it is nearly impossible to break, which can help fix problems associated with broken glass due to damaged windows. They suggest that this is a particularly good idea for improvement of homes and buildings which are no longer occupied or being sold, to protect them from damage until they find new residents.
Making the switch from Plywood to Polycarbonate Sheet is being promoted as the best idea for not only homeowners, but industrial and commercial building owners as well. The material used in this sheeting is the same as the plastic used in police face masks and shields, making it highly attractive as a method of preventing crime in areas where the rate of theft and home invasion is high.
Another area where this switch from plywood to Polycarbonate sheet seems to be popular is in areas where natural weather disasters are eminent. Hurricane protection is far greater in homes and buildings that utilize this material, as suggested by Industrial Plastic Supply, Inc. This is because when large objects bang into houses due to high winds and the elements, windows will not shatter into homes, causing a swell of dangerous debris. The product lets in light and allows for people to see through to the outside, which means that it can be installed after a hurricane warning, but before the storm takes place. Many people may choose to install the sheets using materials and tools around the house to save money, but Industrial Plastic Supply, Inc. suggests that professional installation can make for more secure windows.
The company has also noted that in cities like Phoenix, Arizona, and others across the United States, there are now ordinances that plywood window coverings must be updated with clear polycarbonate sheets on abandoned homes. Not only is this reported by Industrial Plastic Supply, Inc. to be a cost effective way to prevent damage, it also allows neighbors and law enforcement to see inside of the buildings to know that there are no illegal activities occurring. The Arizona laws require this change to be made in ninety days or less, but this may vary from city to city.
For more information on Polycarbonate sheets and the conversion from plywood to this clear plastic material, Industrial Plastic Supply, Inc. encourages individuals and city officials to read about the products on the company's website. They also invite those interested to research the conversion on other informative sites and blogs, where more benefits of the Polycarbonate sheet is discussed.
###
Contact Industrial Plastic Supply, Inc.:
Hayden Hess
714-978-3520
hayden@iplasticsupply.com
2240 S. Dupont Dr.
Anaheim, CA 92806
ReleaseID: 60001452
Go Top