Natural Child Friendly Mosquito Repellent Bracelets Launched
Essencell has designed and launched a set of child friendly mosquito repellent bracelets with a cartoon design. They slap onto the wrist or attach to objects like strollers or bicycles to offer natural protection with fun factor.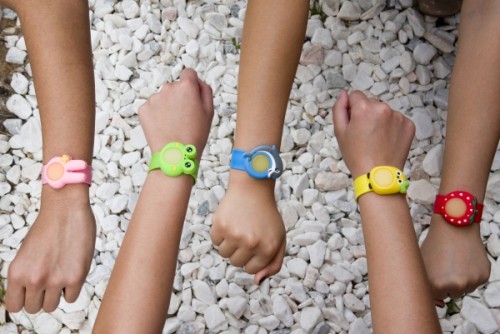 Spring, TX, USA – March 15, 2016 /PressCable/ —
Essencell, an beauty and health company, has announced the launch of 100% natural, child friendly mosquito repelling bracelets. They are designed to incorporate cartoon characters, making them fun to wear, but crucially they are designed with functionality in mind, and help stop insect bites in their tracks.
More information can be found on the Amazon product page at: http://www.amazon.com/Essencell-Cartoon-Mosquito-Repellent-Bracelet/dp/B012M8N4OG.
Insect repellents are important health tools to prevent the spread of diseases and the discomfort of bites. All repellents are made from either synthetic or natural chemicals that force the insects to move directly away from the source. But most of the time, these repellents are based on functionality rather than design. If parents want protection for their children, they have to rely on oil sprays, which can be uncomfortable or slimy. Essencell is hoping to forge its own place in the market by producing products that actively appeal to children.
Essencell mosquito repellent slap bracelets do not use a spray and are completely waterproof. A combination of 100% pure, natural ingredients gives a non-greasy method of combating mosquitoes, packaged in a fun wristband that attaches to the wrist simply by slapping onto the skin. Because of this design, the bracelet can also be attached to objects like bags, bicycles, and baby carriages, granting a wide range of safety options for customers and their families.
Each bracelet provides 30 days of protection out of the box, and comes with two refills that both allow an 15 days' protection each. Each boasts a cartoon-like design, including dolphins, frogs, and rabbits. They come in a range of different colors, and because they're completely waterproof, children can wear them while playing sports, or enjoying summertime activities when mosquitoes are at their most prominent.
When children are active, it can be a pain for them to wear insect repellent on their skin because they often end up with the taste of the chemicals in their mouths or eyes. Insect repellent bracelets combat that, but the product is also packaged like a toy, in a way that will encourage children to want to wear them.
For more information about us, please visit http://www.amazon.com/Essencell-Cartoon-Mosquito-Repellent-Bracelet/dp/B012M8N4OG
Contact Info:
Name: Cindy Sampson
Organization: Essencell
Address: P.O. box 11991,Spring, TX 77391
Phone: 8325106698
Release ID: 107068
Go Top