New Ice Cream eBook Launches and the Best Part is, It's Free.
Frozen dessert lovers rejoice! Ice cream website, Creamish, has launched a colourful, information packed ice cream eBook. It's full of delicious recipes, tips and fun facts as well as helpful hacks to make ice cream without an ice cream machine.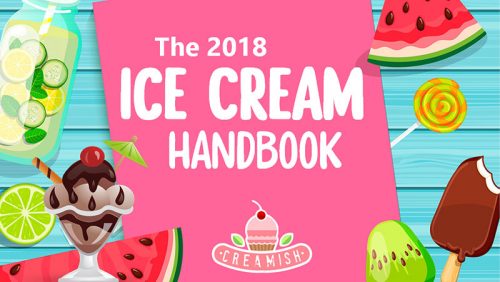 May 16, 2018 —
Creamish is excited to release the 2018 Ice Cream Handbook which contains a lovely selection of ice cream recipes and other ice cream related resources. Although the Creamish website offers readers ice cream making know-how, the eBook has taken this knowledge to a new level. It reveals the secrets to churning a perfect pint from the comfort of the reader's own home.
According to Nate Teague, "In 2015, I discovered the enjoyment that comes from making home made ice cream. Since then, I have spent a lot of time working on improving my ice cream making skills. I keep things simple and focus on the quality of the ingredients. Fresh milk and cream along with the best quality seasonal fruit – these are the building blocks to churn ice cream, gelato and sorbet that's full of amazing taste and creaminess".
The 2018 Ice Cream Handbook is a free publication and Nate hopes it will get more families involved in making ice cream. "I originally started making frozen desserts because I was tired of the store bought flavours. However, I soon learned that the home made version avoided unnecessary stabilisers, preservatives and other unwanted ingredients. That's a huge bonus".
The 2018 Ice Cream Handbook includes recipes to make innovative ice cream flavours like mojito cocktail and mint choc chilli as well as the favourites like chocolate and vanilla. There are loads of other tips and hacks that will help budding chefs make the best ice cream in town.
Contact Info:
Name: Nate Teague
Organization: Creamish
For more information, please visit https://www.creamish.com.au/ice-cream-recipe-book/
Release ID: 346429
Go Top