Outdated Infrastructure Causing Lead to Leech Into Water on Way to Homes; 4Patriots LLC Recommends Filtering All Tap Water
High-profile cases of excessive lead levels in water in Flint and Newark are just the tip of the iceberg. 4Patriots LLC urges the use of its Patriot Pure Pitcher to dramatically reduce exposure to contaminants including lead.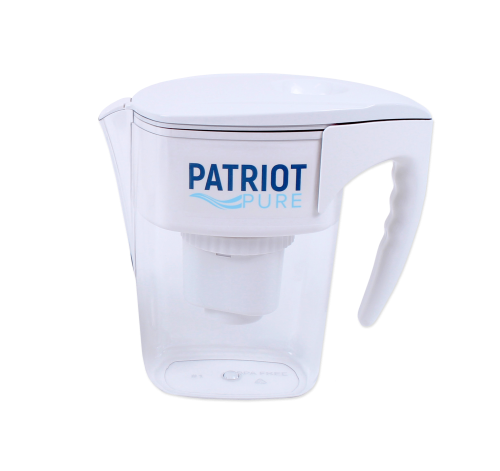 Nashville, TN , United States – September 14, 2019 /MarketersMedia/ —
Between 2015 and 2018, approximately 5.5 million Americans in communities around the nation received their water from systems that exceeded the Environmental Protection Agency's lead action level of 15 parts per billion.
That's according to a report from the Natural Resources Defense Council, as published by The Atlantic magazine and other media outlets. The high-profile cases of Flint and Newark do not tell the whole story, but they are evidence of a failure to upgrade water infrastructure in recent decades, the report states.
Lead can cause serious health problems for adults, as well as lead to lower IQ and behavioral problems in children. The damage is difficult to reverse and can last a lifetime.
"Many of the tens of thousands of community public water systems in this country don't have the resources to comply with public health standards, and that puts many at risk," said Allen Baler, Partner at Nashville, Tenn.-based 4Patriots.
"In most cases, water leaves treatment plants lead-free, but lead gets in the water on its way to homes and businesses. Many of the lead pipes leading to those places are 50 to 100 years old. It's up to individuals to protect themselves and their families from lead in their tap water."
4Patriots provides a variety of products that help people become more self-reliant and independent, including the Patriot Pure Pitcher.
This pitcher filters out 99.99 percent of heavy metals including lead, copper, mercury, aluminum, arsenic, cadmium, chromium 6, asbestos and more. Plus radiological elements such as radon 222, plutonium, uranium and cesium.
It also filters out 99.99 percent of chemicals including pesticides, VOCs, DDT, PCBs and trihalomethanes, as well as fluoride, chlorine, silt, sand and sediment. The Patriot Pure Pitcher holds up to one gallon of water and features a filter that lasts for 150 gallons.
Contact Info:
Name: Timothy Boyle
Email: Send Email
Organization: 4Patriots LLC
Website: http://www.4patriots.com
Source URL: https://marketersmedia.com/outdated-infrastructure-causing-lead-to-leech-into-water-on-way-to-homes-4patriots-llc-recommends-filtering-all-tap-water/88918327
Source: MarketersMedia
Release ID: 88918327
Go Top