Owner of Leading Landscape Design & Installation Company Interviewed by LA Home
Rumaldo Flores, the owner of leading landscape design & installation company Flores Artscape, was interviewed by "LA Home". This interview covered the importance of good communication in business and Rumaldo's love of bringing landscapes to life so they can be truly enjoyed.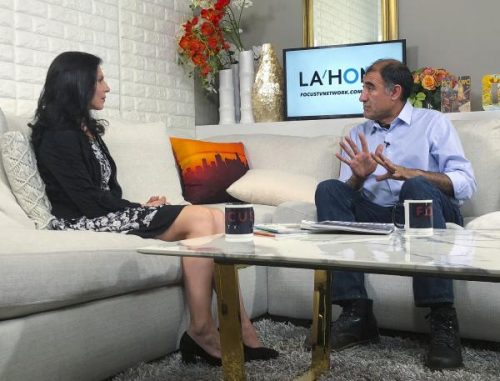 Los Angeles, United States – July 31, 2018 /PressCable/ —
Natasha Phillips of "LA Home" interviewed Rumaldo Flores, the owner of Flores Artscape, a premier landscape design and installation company based in Los Angeles. "LA Home" is a show on Focus TV Network, America's first streaming video talk show network. It was born from the pages of Focus Magazine which is now in its fifth year. They currently produce 18 talk shows from their studios in West Hollywood, California.
The 12-minute interview covered Rumaldo's early start in landscaping as a Mexican immigrant working with his father. He knew then he wanted to create something bigger and serve his community.
In 2004 Rumaldo had acquired enough business knowledge to establish Flores Artscape. It has since grown to over 35 employees and is one of the leading landscape design and installation companies in LA.
This year Flores Artscape received the Best Business of 2018 award from Three Best Rated, the 2018 Best of Houzz Service award and the Super Service Award from Angie's List in four categories: Landscaping, Stone & Gravel, Lawn Irrigation and Landscaping—Hardscaping & Pavers.
2018 also brought Rumaldo and Flores Artscape a Mayoral Certificate of Recognition for contributions to the community and exceptional service ratings.
When Natasha asked Rumaldo where his creative methods of landscaping came from he replied:
"I learned one thing as I went: that people have different 'needs and wants'. Understanding that is very important for any business.
"When you are able to communicate well with people and find out exactly what they need and want, you design, organize and figure out how you're going to deliver it to them.
"Sometimes they want something to be dog-friendly or kid-friendly, drought-tolerant—that's how they want to use those spaces. So we organize and design from that viewpoint."
Natasha asked how Rumaldo keeps his passion alive.
"When you're doing what you like, and you see that you're growing, that you're making progress, that kind of drives you. Having a goal and being able to accomplish it propels you to continue. You get up in the morning and you're excited because you're making progress."
Rumaldo added how this related to the way he runs his company:
"I like to organize and I like to train my personnel. I train my guys on communication and delivering quality products. For me it's a challenge to sort out problems. It just drives you. We like challenges. It keeps me going and all my team."
When asked about the most interesting project he's worked on Rumaldo replied, "In the Hollywood Hills we had the challenge of doing these intricate stone walls. It was really hard, but we figured it out. We had to do it in a way where we were saving water while also putting in all these paths on the hillside; and everything had to be done per code. We pulled that off. It took us eight months, but at the end the customer was really happy and it was very aesthetically done."
Natasha asked Rumaldo about tips he had for consumers.
"There's a huge benefit to adding value to your house. Whatever you're going to do you need to add value to your property in the long run if you're going to sell it or just enjoy it.
"For example, these days most customers want to save water. You have to educate them that there are drip-irrigation systems or there are drought-tolerant plants you can use. And those save water and maintenance. Especially here in LA where we're having difficulty getting water.
"And a lot of times there's kids or a dog or cat and the customer's concerned. So how do we make a space that works for them? We have to think with all this and design it in a way that's going to be functional for the needs of the customer."
When asked how people contact the company he mentioned the website. And that people can call or email.
He then went on to say, "Our communication goes fast. When someone calls or sends us an email we make a point to answer quickly. Time's important and most people are busy. That's one of the things that sets us apart."
Finally Natasha asked what Rumaldo was most excited about in his work right now.
"I'm excited we're able to provide a service to our community and transform their yard for them to enjoy. Our slogan is 'we bring your landscape to life'. Because a lot of times people have a yard and they don't even go out because it's boring; or it's not set up to go out and enjoy your coffee, your glass of wine. They don't use it. So when we go in we think of those points. People enjoy it with their fire pit, their barbeque. It feels good when you offer a service that people can enjoy. We love to do that.
"So that's why we get a lot of customers calling, because of our communication: we take the time to listen to what's needed and wanted."
Contact Info:
Name: Jessie Sabanero
Email: info@floresartscape.com
Organization: Flores Artscape
Address: 3959 North Eagle Rock Boulevard, Los Angeles, California 90065, United States
Phone: +1-323-666-3510
For more information, please visit https://floresartscape.com/
Source: PressCable
Release ID: 386513
Go Top