Pellholmen Collection Introduces the Exquisite Wine Decanter and Aerator
Pellholmen Collection is a Sweden-based company that was founded by wine gourmets for wine gourmets. The brand has recently launched the Wine Decanter and Aerator product.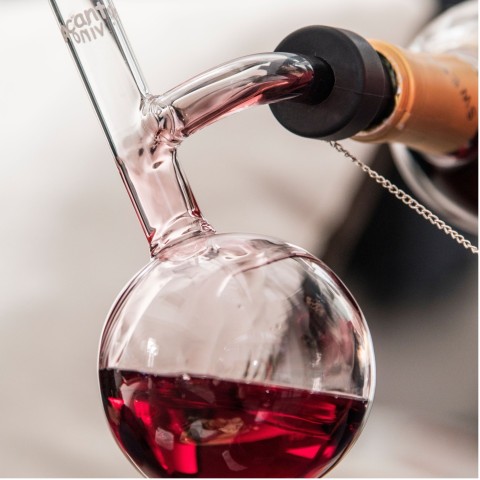 Sweden – November 23, 2021 —
Pellholmen Collection is a Swedish brand that specializes in manufacturing boutique cutlery and wine accessories. The company's catalog features an eclectic array of kitchen accessories, including cheese boards, butcher boards, wine glasses, wine aerators, chef's knives, citrus juicers, cork openers, and more.
Pellholmen Collection had recently enriched their catalog with the exquisite Wine Decanter and Aerator, a product that comes supplied with top-tier features, including double aeration, no-drip pourer, and a blown glass construction of impeccable quality:
"Decanting is a crucial step as it separates wine from the sediment that makes it taste more astringent. But to truly unlock your wine's unique flavors and aromas, aeration is needed. The Pellholmen Collection decanter double aerates your wine, first as it flows into the glass bulb and breathes in oxygen and then again during the pour-as-air is introduced."
The newly introduced Wine Decanter and Aerator product joined the ranks of Pellholmen Collection's catalog of boutique wine accessories, offering wine enthusiasts and lovers an additional tool to keep their wine fresh and as savory as ever.
The Pellholmen Collection is comprised of numerous excellent-quality decanters, including the heavily acclaimed Tear Drop Decanter, the Iceberg Wine Decanter, and the U-shaped Wine Decanter.
The recent addition to the brand's catalog offers a substantially improved aeration mechanism, allowing wine enthusiasts to experience the full potential and flavor of their favorite beverages:
"With the Pellholmen Collection wine decanter, you can enjoy perfect aeration in the time it takes to pour a glass! It fits securely atop most wine bottles and allows you to serve aerated wine right from the bottle. Traditional decanters can take hours to aerate and only hold one bottle at a time. Our unique top-of-the-bottle decanter aerates a single glass of wine in seconds so you can aerate as many bottles as you want without the long wait! "
More information about Pellholmen Collection can be found on the brand's official website.
Contact Info:
Name: Alexander Markusson
Email: Send Email
Organization: Pellholmen Collection
Address: Sweden
Website: https://www.ph2collection.com
Release ID: 89054323
Go Top