Power Split Double Vertical Splitter Still Outranks Competition After 20 Years
Power Split defied convention in the wood splitting industry with the release of their double vertical splitter twenty years ago. Further information can be found at powersplit.com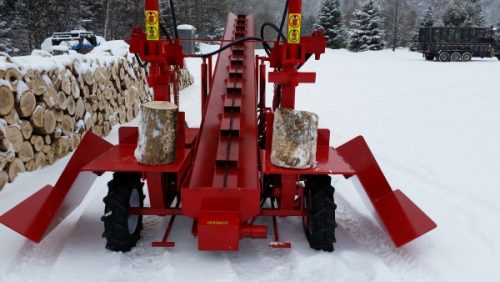 Laval, Canada – June 15, 2016 /PressCable/ —
Today, Power Split International Inc. reflected on the 1996 release of their double vertical splitter which had been in Research & Development for a year. The main goal was to find a simpler and less fatiguing way of splitting firewood… and by defying convention, this wood splitter model does so, with a difference.
Louis Lapointe, founder of Power Split International Inc. says: "We wanted to try something new with the double vertical splitter. Anyone familiar with the wood splitting industry will probably have noticed that even to this day the standard horizontal splitter requires the workers to constantly bend down and pick up the wood they have just split in order to re-split it into the right size. We felt this was a problem because it hugely reduces efficiency and thus, profits."
So as a welcome breath of fresh air, the double vertical Splitter instead has an additional splitter to the other side of the conveyor thus creating their most popular model the Self Propelled Double Vertical Splitter with Conveyor. Power Split chose to make this move because it definitely maximizes manpower.
Mr. Lapointe also said: "We want to give our customers options. With the double vertical splitter, they have a fresh new possibility. We want them to feel amazed at the dramatic increase in productivity when using the double vertical splitter. Trying something new is always a risk, but it's a risk we believe has been well worth taking."
Power Split has been in business for twenty years now, and was incorporated on August 14, 1997. Since Day 1, the company strove to stand out from the crowd, while also providing its customers the best possible experience at the best possible value.
The double vertical splitter is available on the Power Split International Inc. website or by calling toll free 1-888-414-2261.
Several testimonials can be seen on their recent blog page, such as that of Jeremy Dippold the owner of Best Budget Tree Service in Chicago Illinois, one of Power Split's long time satisfied customers.
To find out more, visit : http://powersplit.com/split-your-firewood-in-record-time/
For more information, please visit http://powersplit.com
Contact Info:
Name: Louis Lapointe
Email: info@powersplit.com
Organization: Power Split International Inc.
Address: 2544 Rue de l'Ombrette, Laval, Québec H7L 4P4, Canada
Phone: 1-888-414-2261
Release ID: 118489
Go Top