ProEnc's NL26 Anti Ligature TV Enclosures Now Go Recessed
ProEnc's NL26 anti ligature TV enclosures are used In jails around the world, now securing the world's largest correctional facility with their NL26 anti ligature TV enclosures.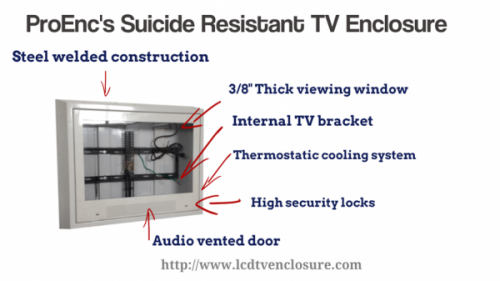 Ely, United Kingdom – July 27, 2017 /PressCable/ —
ProEnc's NL26 anti-ligature tv enclosures are used in both psychiatric and jail environments, a recent project came up to supply the largest correctional facility in the world. ProEnc had been through the selection process after their enclosure had been tested to destruction, so the facility would know what abuse the housing would withstand.
The NL26 is a surface mounted solution, however the facility needed 79 recessed enclosures, due to the cell size and having minimal intrusion into the inmates space.
ProEnc's NL26 jail grade TV enclosures.
Small screens are the most popular in correctional facilities across the world; the facilities provide the inmates with flat screen televisions in the cells of the inmate's cells. Correctional facilities rarely install flat screen televisions over 36″, hence the NL26 being the perfect size for these areas.
ProEnc's NL26 anti ligature TV enclosures had been selected, as Dale Edwards stated, "the correctional facilities need a solution that is installed once but lasts for years, this is why a ProEnc enclosure carries a warranty of 7 years. Dale shared a review of ProEnc's product by a leading Chief of Police, WM – "ProEnc's enclosures had been used to replace existing protective solutions, that had failed due to inmate attacks. The police department are now looking at other facilities to install these protective housings. All correctional facilities need a solution for cells that had minimal space, so surface mounted enclosures were out, the protective cases had to be recessed. ProEnc came up with a design in under a week and the facilities tested it 2 weeks later and liked the unit, so much so the facility placed the order for the entire jail."
ProEnc then received the purchase order to commence manufacturing, which was on a scheduled delivery as the facility did not have the storage capacity for 279 enclosures. One of the many reasons ProEnc's solution was selected was the level of detail the enclosures are supplied with as standard. ProEnc's solution is a complete enclosure, which covers the television providing maximum strength against physical attacks, which can be seen at http://www.lcdtvenclosure.com/anti-ligature-tv-enclosure
With being responsive ProEnc are one of the very few US registered businesses that responds fast, with an expedited quotation system that guarantees a 24 hour turn around, now the recessed anti ligature enclosure is available on a short lead time.
Contact Info:
Name: Dale Edwards
Organization: ProEnc UK
Address: George Court, Bartholomews Walk, Ely CB7 4JW, United Kingdom
Phone: +44-843-289-3717
For more information, please visit http://www.lcdenclosure.co.uk
Source: PressCable
Release ID: 221992
Go Top