Reserve Bank Of Zimbabwe 100 Trillion Dollar Note To Be Exchanged For 40 Cents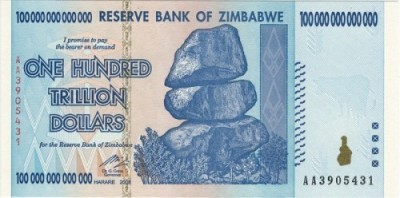 Since 2009 Zimbabwe has not used their own national currency, the Zimbabwe Dollar due to hyperinflation. The Reserve Bank of Zimbabwe is now exchanging those notes, including the 100 trillion note, for United States Dollars.
Tempe, United States – August 10, 2015 /PressCable/ —
The Reserve Bank of Zimbabwe (RBZ) has stated that individuals holding the 2008 and 2009 issues of the Zimbabwe Dollar (including the 100 Trillion Dollar banknotes) have until September 30, 2015 to exchange all bank notes. After that time, all notes that have not been exchanged will be, as the RBZ states, "considered demonetized or decommissioned". The RBZ has stated that there will be no bank charges or government taxes involved with these currency exchanges.
http://globalcurrencyreset.net/zimbabwe-dollar-exchanges-place-press-release/
Anyone, either a citizen of Zimbabwe or visitor from out of country, may redeem their currency at any bank in the country including POSB (People's Own Savings Bank) and Zimpost (the company responsible for the country's postal service).
Zimbabwe is currently on a multi-currency system which includes such currencies as the U.S. Dollar, South African Rand, Botswana Pula, British Pound, Chinese Yuan and the Euro. This event marks the first time since April 2009 when the Zimbabwe Dollar may be redeemed at local banks for U.S. Dollars. There is currently no plan to re-introduce the Zimbabwe currency according to Finance Minister Patrick Chinamasa.
Zimbabwe Bank accounts which had balances of up to 175 quadrillion Zim dollars will be paid $5. Any account which had a balance above this will be paid at the official exchange rate of $1 for every 35 quadrillion Zimbabwean dollars. Individuals holding the 2008 Zimbabwean notes, can now visit any bank or authorized exchange center and receive $1 for every 250 trillion worth of currency. For the 2009 notes, the redemptive value is different.
2008 issue banknotes in denominations of 100, 50, 20, and 10 trillion notes will be redeemed for 40, 20, 8 and 4 cents respectively.
For the 2009 issues, the last banknotes issued by the RBZ, the 500, 100, 50, 20, 10 and 5 denominations will be redeemed for $2, 40, 20, 8, 4 and 2 cents respectively.
View YouTube videos on the Zimbabwe economic situation, including currency news here:
https://www.youtube.com/user/globalcurrencyreset/videos
The Reserve Bank of Zimbabwe is currently attempting to assist the current situation by issuing what are known as Zimbabwean Bond Coins. These coins were introduced on December 18, of last year. The coins have denomination of 1, 5, 10, 25, and 50 Cents. These coins, minted in South Africa, are currently pegged to the exact same values in United States currency.
According to a December 2014 news report by Mail & Guardian, an online African news website, Zimbabwe citizens are skeptical of these new coins, they feel the Zim Bond Coins are a way of re-introducing the Zim Dollar, which is not desired in country. The main purpose of the coins is to assist with change shortages as there is little change in country. Most goods and services end up being rounded either up or down. With the multi-currency system currently being used, paper currency is abundant, however, change is scarce, the Bond Coins are an attempt to remedy this issue.
Many individuals in the United States and abroad have invested in the Zimbabwe Dollars believing that a revaluation would take place. However, this latest announcement by the RBZ dispels any rumors of revaluations or reintroduction of the Zimbabwe banknotes into circulation. There are current sellers on eBay and other websites offering the 100 Trillion Zimbabwe Dollar bill for as much as $67, when in reality, the note is worth just 40 cents now.
For the latest information on Zimbabwe, the Herald, Zimbabwe's largest daily newspaper, as well as the Reserve Bank of Zimbabwe website, will be great resources on any economic and monetary policy changes.
Press releases from the Reserve Bank of Zimbabwe, including the most recent one announcing the exchange of the Zim Dollar may be found here:
http://www.slideshare.net/global-currency-reset
As of July 2015, the amount of old currency that has been converted has been $4 million. Total cash paid out to walk-in customers amounts to $301,000. It is again recommended that citizens exchange their old currency prior to the September 30, 2015 deadline.
For more information about us, please visit http://globalcurrencyreset.net/
Contact Info:
Name: Nick Giammarino
Email: nick@globalcurrencyreset.net
Organization: Internet Marketing, L.L.C.
Address: 4505 S Hardy Dr # 2155
Phone: (602) 730-2639
Release ID: 88626
Go Top