RVing Couple Visits 48 USA States in 26 Months While Still Working Fulltime Jobs
An RVing couple is redefining the American dream by traveling across North America while still working full-time jobs. This week Marc and Julie Bennett celebrate their 48 States milestone after 26 months on the road, with over 16,000 followers at their blog www.RVLove.com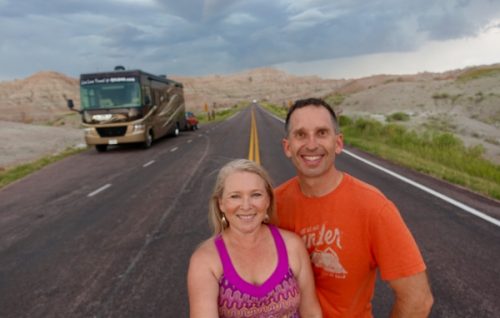 Jackson, WY, USA – August 23, 2016 /PressCable/ —
The American/Australian couple in their 40s who live, work and travel full-time from their motorhome while exploring North America have just visited their 48th lower USA state in a little over 2 years, proving that extensive travel is still possible while working full-time.
Marc and Julie Bennett are location independent professionals who advocate a philosophy of healthy work/life balance. Realizing the American dream wasn't working for them, they decided to sell everything and hit the road in a motorhome. They share their travel journey along with practical tips and advice to help others wanting to get off the treadmill of life and embrace RVing as an affordable lifestyle that offers greater freedom, more travel and life enriching experiences.
Their website RVLove.com, YouTube videos and social media channels have already attracted over 16,000 people who are inspired to do the same.
"We never set out to achieve any of this in a set timeframe" says Julie of their recent milestone. "We just took a step back to re-evaluate our life and what we truly wanted – which was less stress and more travel, less stuff and more meaning. So we sold our home, bought an RV, hit the road and we haven't looked back."
Since embarking on their new life adventure in June 2014, Marc and Julie have visited 19 of the 59 national parks, including Yellowstone and the Grand Tetons this week. They mostly stay in RV Parks and campgrounds but occasionally dry camp in the desert without utilities. They have summered in Maine, wintered in Arizona, hiked Colorado's Rocky Mountains, snorkeled in the Florida Keys, driven into Canada and walked across the border into Mexico. They plan to visit another 6 national parks, including Hawaii's Volcanoes National Park by December 2016, followed by Alaska in 2017.
While RV life is often reserved for retirees, the Bennetts decided they didn't want to wait.
"When we began thinking about everything we wanted to see and do, we realized it would be impossible to fit it all into our golden years. Knowing that tomorrow is promised to no-one, we figured why not start now?"
The Bennetts spent 8 months downsizing their life, budgeting and planning for their new lifestyle and researching RVs before buying a used 36' Class A motorhome that supports two separate work spaces. A WIFI hotspot keeps them connected to the internet so they can work. They tow a MINI Cooper convertible to run errands and go exploring.
While some friends and family expressed concern about them leaving their 1800sqf townhome in Colorado to live in a 350sqf home on wheels, most have since changed their tune.
"Now that my mom sees how happy we are and that it hasn't impacted my work, she's come around" says Marc. "My boss shared how impressed he's been with my performance and connectivity. Even the realtor who sold our home said he plans to join us on the road in 2017."
A recent survey of their RVLove audience got 1,500+ responses and reveals a growing trend:
– 67% are either currently or planning to live in an RV full-time, part-time or seasonally;
– 51% are retired (or soon to be), 39% are still working and aiming for RV life pre-retirement, and 10% are families with kids planning to hit the road;
– 88% of their fanbase are aged 45 and over.
"These days RVing is not just for retired folks, it's for anyone who has ever dreamed of having the freedom to explore the country or world, one mile at a time. We hope that by sharing our journey and what we've learned, we can help and inspire others to embrace the RV lifestyle too."
The digital nomads plan to continue exploring the USA and beyond by RV indefinitely.
"We just can't imagine going back to our old life" says Marc. "There are so many more roads to travel and another 34 National Parks to see in the USA alone, we're scratching the surface."
For more information, please visit http://RVLove.com
Contact Info:
Name: Marc and Julie Bennett
Email: thebennetts@rvlove.com
Organization: www.RVLove.com
Address: Accompanying photographs available upon request.
Phone: 303-304-9178
Release ID: 129248
Go Top