Surviveware Survival Kit Takes Care of Outdoor Emergencies
Survival Kit Receives 5-Star Rating from Tactical-Style Backpacker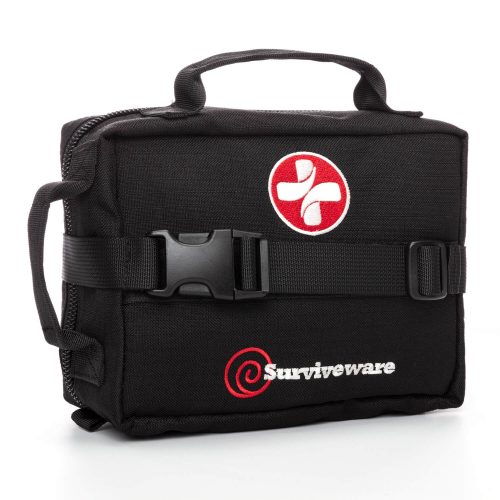 Woodbridge, United States – January 22, 2021 /MarketersMedia/ —
When SHTF, presence of mind is often the first thing to go. It is all-important to have the ability to think calmly and take decisive action in an emergency situation. This is why having a kit that does the thinking for you is crucial in increasing the odds of survival.
Surviveware recognized a need for a power kit that combines first aid, hygiene, and survival especially for people stuck in disaster areas, waiting for help to arrive. The company launched the Surviveware Survival Kit – a power pack when it comes to outdoor survival, complete with provisions that address disaster preparedness.
Like the Small and Large First Aid Kits, this innovative kit uses a 600D polyester bag that together with heavy-duty zippers, makes it water-resistant. The strong, durable handles and MOLLE-compatible strap system means the pack is highly portable with the ability to be strapped onto almost anything.
The company added its signature organization system to the inner contents of the kit, by using color-coded labels making supplies easily identifiable at a glance and supporting bystanders who help out in emergency situations. Red compartments house first aid supplies, survival tools in black compartments, and hygiene products are stored in blue and green compartments.
First aid supplies in the survival kit include bandages, strip wound closures, gauze swabs, eye pads, a triangular bandage, antiseptic wipes, sting relief wipes, safety pins, tweezers, nitrile gloves, splinter probes, and trauma shears. It also holds a removable CPR kit with a one-way breathing mask.
To cover backcountry needs, premium-quality survival tools include a high-quality knife, wire saw, small tactical flashlight, a multi-tool, signaling mirror, a whistle, glowsticks, and the revolutionary Surviveware Biodegradable Wet Wipes.
Seasoned outdoorsmen and adventure enthusiasts approve of Survivewares products as revealed in this review written by one of Surviveware's Amazon customers.
"This is a pretty amazing kit. There is so much great emergency gear in here and I'm impressed with the overall quality. This will be the kit I carry in my truck for road-side emergencies and for camping. It's also cool that this kit includes an LED flashlight, knife with a seatbelt cutter, wire saw, and multi-tool with pliers. Plus, this is loaded with all of the bandages and wipes that you might need in an emergency.
Definitely, a smart item to have in your car, but it's also easy to attach this to a tactical-style backpack for hiking. Many uses, and everything has a quality feel. The clear labeling on the inside pockets is also a great plus."
Level-up your outdoor game by adding a Surviveware Survival Kit to your emergency pack. Limited stock available so place your order today by clicking here.
Contact Info:
Name: Amanda Condry
Email: Send Email
Organization: Surviveware
Phone: 703-910-5188
Website: https://surviveware.com
Source URL: https://marketersmedia.com/surviveware-survival-kit-takes-care-of-outdoor-emergencies/88992951
Source: MarketersMedia
Release ID: 88992951
Go Top