Sustainable Scents without the Chemicals— CŪRATA Aims to Disrupt the Fragrance Industry
Live on Kickstarter, CŪRATA introduces handmade perfumes with clean materials and ethical sourcing.
Montreal, Canada – October 31, 2022 /MarketersMEDIA/ —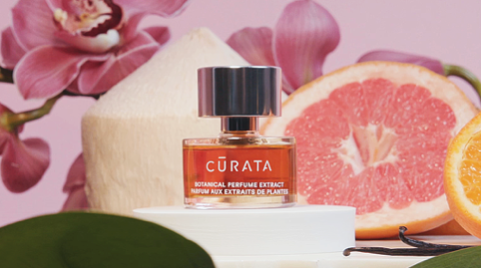 CŪRATA, the revolutionary new fragrance startup brand offering handmade perfumes with clean materials and ethic sourcing, is live on global platform Kickstarter and a breakout crowdfunding success story having already raised more than 100% of their initial raise goal.
Many consumers today incorrectly believe they are allergic to perfume. The truth? It is most likely one of the untold and unlabeled chemicals causing people to experience headaches, nausea, dizziness and more. While the ingredient list might read short— Alcohol, Water, Parfum; corporations have convinced consumers that 'trade secrets' can be protected and withheld. What this means is fragrance blends don't have to disclose which of the over 3,000 stock chemicals were used; many of which are potentially hazardous or derived from petroleum. CŪRATA is pioneering a new class of natural perfumery, with scents that are designed intelligently and intentionally using only natural materials perfectly proportioned in their complexity. Their groundbreaking new transparent blends feature 100% organic grain alcohol with clean materials to deliver a truly non-toxic fragrance.
"After traveling internationally for several years while consulting in the spa and wellness industry, I began working with a skin-care line that was truly natural. This opened my eyes to the world of 'safe' personal care products. What stood out was how fragrance or 'parfum' seemed to remain a mystery— even in so-called 'clean' products," says Founder and Co-Creative Director Serena Rogers on the inspiration behind the project. "It became a mission for me to understand and share truly transparent scents – though I did not know how or through which medium."
Each of CŪRATA's sustainable and certified non-toxic perfumes are developed with care, conscientiousness and countless reformulations, ensuring a positive impact on people's daily lives, while having the least impact on the planet
"CŪRATA's commitment to sustainability is unwavering which means we must adapt and innovate our products to align with our ethos. We monitor the harvests and production of the precious raw materials that go into our perfumes. We trust and respect these aromatics in their holistic state and work to create perfume experiences that reconnect wearers with the natural world while guaranteeing safety and integrity," adds Artisan Perfumer and Co-Creative Director Beckie Sheloske.
CŪRATA's first scent DULCEO, which was awarded a Finalist title in the prestigious Art & Olfaction Awards of 2019, is being followed up with two new scents in VERDE and FLOREALE for the Kickstarter campaign. DULCEO is also the only perfume certified non-toxic by Made Safe – a 501(c)(3) non-profit organization, that provides America's first comprehensive human health and ecosystem-focused certification for nontoxic products. Manufactured under the same high standards, VERDE and FLOREALE are also expected to be certified with the same distinction.
"The mystique surrounding perfume was intriguing and I was drawn to understanding how to produce such elixirs. I could sense the layers of synchronicity between the notes. I read many books on perfume construction, history and the industry, and discovered an opinion that perfumes consisting of only naturals would be boring and flat and without dimension," adds Artisan Perfumer and Co-Creative Director Beckie Sheloske. "This sparked me to dive into naturals and dis-prove this thesis. The journey to designing perfumes using strictly naturals, creating unique formulas and establishing proprietary techniques began. I've come to deeply believe that beautiful, full bodied perfumes can be achieved using only naturals and that is artistry and passion that speak through my perfumes."
Experience decadently disruptive scents. CŪRATA is currently live and available to support on Kickstarter: www.kickstarter.com/projects/sustainablescents/curata-decadently-disruptive-sustainable-scents
About CURATA
Curata (Latin roots) means to restore or care for. CŪRATA was built from the ground up in Canada by two dedicated women with a passion for improving the way we interact with scents in our daily lives. They are on a mission to show that the experience of smell is extraordinarily powerful, and we should not have to give it up to preserve our health. All products are decadently disruptive sustainable scents made using quality ingredients that never compromise on being safe for both people and the planet.
For more information on CŪRATA, please visit curatabeauty.com
###
Contact Info:
Name: Chris Woods
Email: Send Email
Organization: CURATA
Website: https://curatabeauty.com/en/
Release ID: 89084023
If you detect any issues, problems, or errors in this press release content, kindly contact error@releasecontact.com to notify us. We will respond and rectify the situation in the next 8 hours.
Go Top