The Kingdom Bank Reimagines The Financial World With Tailormade, Secure, Crypto-friendly And Next Generation Digital Banking Services
Kingdom Bank is a digital financial world that aims to improve the global payment services. Awarded with "Best International FinTech Bank" at Crypto Expo Dubai 2021, the company provides an international payment platform to facilitate B2B, B2C and C2B payments.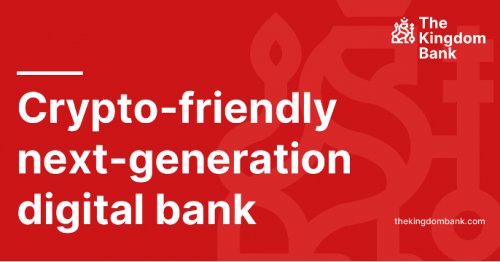 United Kingdom – November 22, 2021 —
Kingdom Bank services include facilitating the settlement of global trade finance transactions for companies with accounts at The Kingdom Bank; providing cross-border money transfers, facilitating international remittances and online money transfers for investors and businesses who wish to trade crypto-currencies, stocks and other financial instruments effectively with a licensed company. The Kingdom Bank is designed with a focus on digital enterprises in mind, hence they allow their customers to send and receive compatible cryptocurrencies to other wallets, make B2B, B2C and C2B payments using their The Kingdom Bank account. Businesses can open dedicated bank accounts in their own names from anywhere in the world. The Kingdom Bank delivers lower-cost and speedier cross-border trade, challenging traditional payment methods. Anyone can send and receive compatible crypto to other businesses and easily make B2B, SEPA, or SWIFT payments wherever they are.
The Kingdom Bank is revolutionising the global payment services industry with its sights firmly set on empowering enterprises with qualitative tools for easy global payments. The Kingdom Bank is currently expanding at an incredible rate throughout various regions and the company combines flexibility with solid security in its range of payment products. It provides its customers with an easy way to pay for goods and services online combined with traditional payment methods. The Kingdom Bank has developed a new business model for consumers, similar to how internet banks have disrupted the financial services industry by providing advanced technology over the web to their customers around the globe through seamless connectivity. It provides consumers with access to banking products on demand without physical bank branches. Its unique set of solutions allow businesses to simplify their payments and provide access for sending money overseas. Visit thekingdombank.com to have more information and understanding about the company's products and services .
Contact Info:
Name: The Kingdom Bank
Email: Send Email
Organization: The Kingdom Bank
Address: United Kingdom
Website: https://thekingdombank.com/
Release ID: 89054086
Go Top