This Issue Is Giving Cannabis Dispensaries & Grow-Ops NIGHTMARES…SE-K-URITY!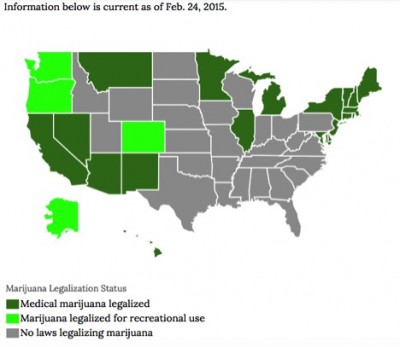 CORAL GABLES, FL / ACCESSWIRE / March 15, 2015 / An abundance of cash, high-powered assault rifles and retired military personnel on high alert watching every corner at all times. Sounds like a scene from your favorite drug kingpin movie but no, it's not. It is actually what is happening today since prohibition against recreational marijuana has ended in several states including Colorado, Washington, Oregon, Alaska, and on Feb. 26, the District of Columbia joined in, legalizing recreational use and possession of marijuana.
Even though this is a win for cannabis connoisseurs as well as many who've been waiting for medicinal options to become available locally and nationwide, the pitfalls for dispensaries and grow operations are becoming painfully obvious. Like they say, more money, more problems, but what do you do with it when the banks won't accept it?
After the first full year of recreational sale of marijuana, Colorado (the only state able to have an annual number to date) reported that the total sales for the year were $699,198,805, according to data tabulated by the Colorado Department of Revenue. Sales of medicinal cannabis totaled some $386 million for the year, while marijuana sales at recreational outlets totaled $313 million. Bear in mind that there is no place to store this money besides whatever built in means these dispensaries have in place. A banking system has yet to exist due to the federal regulation deeming cannabis a Schedule I drug. So what's the outcome? No way to remit payment electronically and therefore nearly $700,000,000 in cold, hard cash sitting "somewhere"…Does this sound like a good idea? Imagine for a moment that an organization that does $5-$8million in annual revenue needs to make its customers only pay in cash and once that cash is accepted, it needs to be sent to a back room somewhere in the hopes that none of it "goes missing". For businesses in the cannabis industry this is a cold reality.
Since the legalization of marijuana became effective in Colorado, petty crime may be down but that hasn't stopped the fact that criminals still exist. Armed robberies are on the rise as well as overnight grow house break-ins. There have been over 300 burglaries and several robberies reported in the last two years, according to police data. That's an annual rate of about 50%, more than double what it was in 2009. A big component of this is that still, even after an obvious industry boom has begun after Colorado's history-making move into selling marijuana for recreational use, banking remains the largest obstacle for business owners and government officials trying to regulate them. The result is bundles and bundles of cold hard cash without a safe home.

"Security is a concern," says Taylor West of the National Cannabis Industry Association in an IBTimes report, "Aside from the financial problems, the safety is one of the biggest. Employees are at risk since people know where there will be large amounts of cash."
Think about this, if somebody robs a jewelry store for $250,000 they might be able to fence that product on the street for $50,000-$60,000 at the most. At this point, if a grow operation is hit and $250,000 worth of product is taken, depending where in the country it's moved, it could easily make $350,000 to $400,000on the street. Michael Elliott, executive director of the Marijuana Industry Group, told NBC News, "Everyone in the industry is having nightmares."
"I think everyone has been robbed at least once," says Jonathan Salfeld, the owner of Local Product of Colorado, which has been broken into twice.
…This is despite being located a block from Denver Police headquarters!
Even though President Obama's administration has set forth guidelines for financial institutions to do business with recreational marijuana dispensaries, they aren't moving too quickly to oblige in fear of breaking federal regulation laws. The result: Career criminals as well as the everyday common thief's dream scenarios. In fact, there have been many instances as a recent Denver Post article states, that marijuana facilities that have actually been able to hold an account at a bank are quickly finding themselves in a growing pool of businesses being contacted by "the closure unit" to simply shut down these accounts; immediately and without reason.
In February 2014, the U.S. Department of Justice and an arm of the U.S. Department of Treasury provided guidance meant to make it easier for banks to openly work with marijuana businesses. According to the Denver Post, the guidance put even greater burdens on banks to document that marijuana companies were preventing distribution to minors and not funding criminal enterprises, as well as six other federal priorities.
It doesn't stop there though; Mexican cartels have lost an estimated 3 billion dollars from Colorado alone since medicinal marijuana was approved. The DOJ's National Drug Intelligence Center, which has since been shut down, found in 2011 that the top cartels controlled the majority of drug trade in marijuana, heroin, and methamphetamine in over 1,000 US cities. New estimations suggest that cartels will lose over $7,000,000,000 a year due to the legalization of recreational marijuana. Surely organized crime via south of the border could come into play.
The Washington Post reported that pot farmers in the Sinaloa region have stopped planting due to a massive drop in wholesale prices, from $100 per kilo down to only $25. One farmer is quoted as saying: "It's not worth it anymore. I wish the Americans would stop with this legalization."
The facts still support the argument that it may be only a matter of time before the US pushes forward for additional states to legalize recreational use especially after the influx in new entrants into the poop of states now offering new laws for the legal recreational and medicinal use of cannabis. In turn, it would seem that banking systems and federal lawmakers will have no choice but to find a way to make accepting this legally, illegal cash flow without worry of prosecution. The outside factors such as the new kind of "bank" robber pose an incredible obstacle that currently stands in the way of progress for the industry as a whole.
When it comes to the legalized states that have companies handling cash generated from recreational sales and even several states who have been approved for medical sales, the cause and effect of banks not accepting money from marijuana businesses opens the door for security based organizations to fill this massive void in order to grab as much market share as possible prior to any pending federal regulatory changes within the banking system.
About Marijuana Stocks (MarijuanaStocks.com)
Marijuana Stocks (www.MarijuanaStocks.com) is your best resource for today's budding cannabis industry. Whether you're looking for the best marijuana stocks to buy, marijuana political news, trends and articles within the cannabis industry and so much more, MarijuanaStocks.com is your destination for it all. Our goal is to become the central hub for all who are seeking current Marijuana Stock News as well as cannabis industry, political and social news, articles, trends & overall insight, delivered in a way that we all can relate to.
Contact:
marijuanastocks.com
800-539-4313
pr@marijuanastocks.com
SOURCE: MarijuanaStocks.com
ReleaseID: 426889
Go Top