Toronto Digital Marketing Agency Announces New AODA Compliance Service
The Best Media, a digital marketing agency in Toronto, has announced its new AODA compliance service to help businesses determine if their sites are compliant and meet the AODA requirements.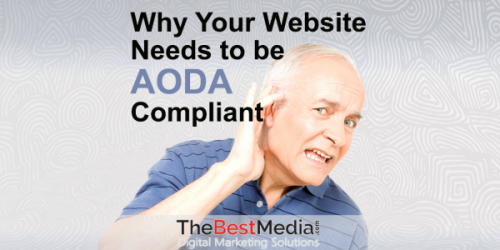 Toronto, Canada – November 7, 2018 /PressCable/ —
One of Toronto's leading digital marketing agencies has announced that it will now offer an AODA compliance service. The Best Media's AODA compliance service will help businesses to determine whether their websites are AODA compliant and ensure that they adhere to the web content guidelines detailed in the Accessibility for Ontarians with Disabilities Act (AODA).
The main aims of this service are to save businesses from paying heavy fines for not complying with the provincial accessibility standards and to help them provide web content that is accessible to all users, including Ontarians with disabilities.
"We wanted to try something new with this service, helping businesses to determine whether their websites are AODA compliant, and if not, how The Best Media can help them get there," says David Marcantonio, CEO of The Best Media. "Anyone familiar with the Internet marketing and SEO services market will probably notice that there are very few companies offering this service. This is a problem because there is not enough information out there about how websites should go about meeting the AODA criteria."
The purpose of the AODA is to develop, implement and enforce standards of accessibility that relate to accommodation, buildings, employment, facilities, goods, premises, services and structures.
The requirements in the act that relate to web content are known as the Web Content Accessibility Guidelines (WCAG). These guidelines are based on several principles that outline how web content can be made accessible for all users.
The WCAG guidelines assert that information, navigation and user interface components on websites should be perceivable, operable and understandable for everyone and they explain how this can be done.
However, these guidelines are quite complex, and many business owners might not even know where to begin when it comes to meeting the requirements.
Luckily, business owners can reach out to The Best Media and have peace of mind knowing that experts are making sure that every aspect of their website meets these requirements.
The Best Media chose to make this move because achieving compliance with the AODA standards is a difficult undertaking, especially for those who have no experience with website development.
"We want to give our customers a way to bring their websites up to provincial accessibility standards. We want them to feel like they're in good hands when using our service. Trying something new is always a risk, but it's a risk we believe is worth taking," says Marcantonio.
This service is set to launch in November 2018. More information on AODA compliance can be found at: https://thebestmedia.com/why-your-website-needs-to-be-aoda-compliant/
About The Best Media: Established in 2002, The Best Media has been in business for over 16 years. Since day one it has always aimed to provide digital marketing solutions for businesses of all sizes, helping them to resolve their issues so they can grow and sustain revenue.
Contact Info:
Name: David Marcantonio
Email: Send Email
Organization: TheBestMedia.com
Address: 701 Evans Ave suite 100, Toronto, Ontario M9C 1A3, Canada
Phone: +1-416-253-0934
For more information, please visit https://www.thebestmedia.com
Source: PressCable
Release ID: 439971
Go Top