World's First. Crazy Mars Squirrel Reshapes NFT Value via 1:1 Business Ecosystem Model
World's First. Crazy Mars Squirrel Reshapes NFT Value via 1:1 Business Ecosystem Model
Los Angeles, CA, California, United States – February 28, 2023 /MarketersMEDIA/ —
With the sustained implementation of its project development planning, Crazy Mars Squirrel NFT has upended people's understanding of NFT with its capability to empower business entities with digital value. As of press time, the floor price of Crazy Mars Squirrel NFT has increased by 8 times even in a sluggish market, which marks its status as a dark horse NFT project.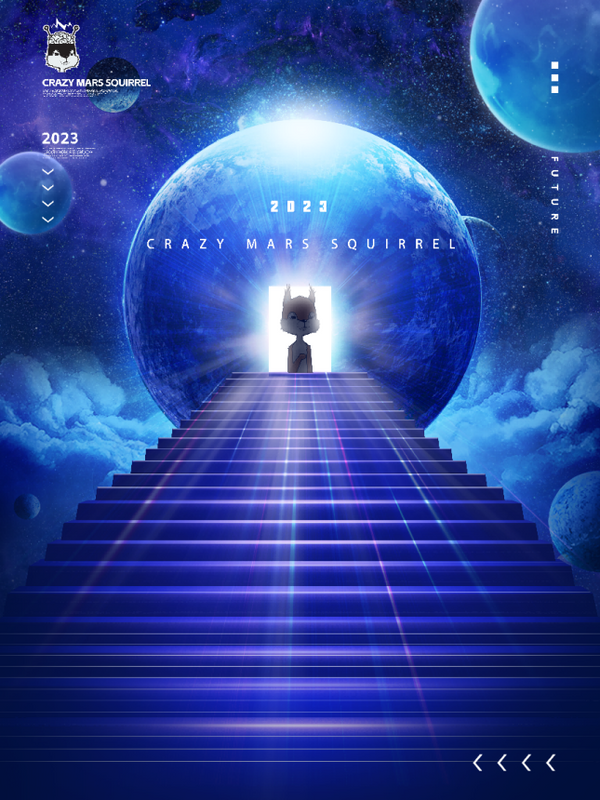 After achieving impressive results, Crazy Mars Squirrel has attracted worldwide attention with its original 1:1 business ecosystem model in the form of "NFT+". In this model, each unique Crazy Mars Squirrel NFT is exclusively authorized to use for one company only – Similar to trademark authorization in traditional business (exclusive authorization) but rather with NFT's digital copyright. Besides, Crazy Mars Squirrel will empower authorized companies in all aspects from brand upgrading, and marketing, to ecological services. For enterprises, by co-branding with Crazy Mars Squirrel and obtaining the authorization of NFTs, they can draw on the brand value and strong ecological resources of Crazy Mars Squirrel, bond the like-minded in the global Web3 field, and open up new markets. As a dark horse project on OpenSea with top popularity and trading volume, Crazy Mars Squirrel can introduce authorized companies to the majority of Web3 users and enhance the commercial competitiveness of enterprises by expanding their user base.
With the help of Crazy Mars Squirrel NFTs, enterprises will garner advantages in brand strategy by integrating digital and the real economy. The modern elements denoted by Crazy Mars Squirrel NFTs, the cultural core of Web3, and the commercial symbols of digital civilization will give full play to virtual culture in promoting the real economy – not only by enriching the brand connotation of the enterprises, but also broadening the marketing channels and accumulating unique brand assets. As the most important core asset of an enterprise, brand assets cannot be easily transferred or sold, but will contribute to expanding market influence and capturing a bigger share of the market. During the cooperation, Crazy Mars Squirrel ecology will provide enterprises with services ranging from business planning, NFT design and distribution, application scenario design, and market expansion. Enterprises can enjoy a one-stop, 0-1 full-cycle NFT service and build a new pattern of digital marketing with key problems solved, including technology, content creation, gameplay, and operation.
Based on the 1:1 Business Ecosystem Model, Crazy Mars Squirrel will continuously connect promising enterprises eager to win in the digital world. As more and more corporations establish cooperation with Crazy Mars Squirrel, the Crazy Mars Squirrel NFTs with a fixed total of 10,000 pieces, will face deflated circulation and rising floor prices on account of more NFTs turning into brand assets.
Secondly, the application scenarios and business ecology of Crazy Mars Squirrel NFT will become increasingly refined as more and more cooperative enterprises join the ecology. The empowerment of each Crazy Mars Squirrel NFT will bring the partners into a new digital business ecology with ensured long-term growth benefits. In turn, the ceaseless earnings flowing to ecology projects will stimulate ecological income and promote the NFT value. Because of this mutually beneficial and win-win model, Crazy Mars Squirrel will win the favor of more brands and companies, attracting them to join and expand the business ecology of Crazy Mars Squirrel. Built on the 1:1 business model and the increasingly diverse application scenarios, a value close loop is formed with continuously deflated NFT circulation.
Through the 1:1 business model, Crazy Mars Squirrel created the unique close loop for NFT value growth. With the exclusive authorization of Crazy Mars Squirrel NFTs, enterprises can link Web3 users, obtain brand upgrades, expand market share, and increase brand assets; Meanwhile, the increased application scenarios of Crazy Mars Squirrel NFTs will witness the deflated circulation and the rising value of NFTs, making Crazy Mars Squirrel a rare investment product for investors.
Joy, the person in charge of Crazy Mars Squirrel Ecology, said that Crazy Mars Squirrel Ecology will open authorization to the world to implement the 1:1 business ecosystem model, and call on global high-quality enterprises to sign up to join the Crazy Mars Squirrel "NFT+" array to transfer to digital civilization and share the dividends of digital business!
Contact Crazy Mars Squirrel Global Community: crazymarssquirrelclub@skiff.com
Opensea:https://opensea.io/collection/squirrel-wykoabwwab
Website:http://www.crzmarssquirrel.com/
Twitter: https://twitter.com/crzmarssquirrel
Discord:https://discord.gg/Vz9W3PeHyW
Contact Info:
Name: Alan
Email: Send Email
Organization: CrazyMarsSquirrel
Website: http://www.crzmarssquirrel.com
Release ID: 89090909
If you detect any issues, problems, or errors in this press release content, kindly contact error@releasecontact.com to notify us. We will respond and rectify the situation in the next 8 hours.
Go Top