DTS Service Centre Proves its Commitment to Breast Cancer Awareness
Servicing a vehicle at DTS Service Centre in northern Queensland in February 2016 commits $5 to Breast Cancer Network Australia (BCNA).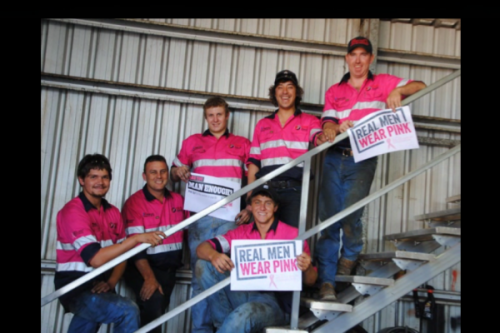 Charter Towers, Queensland, Australia – February 29, 2016 /PressCable/ —
The team at DTS Service Centre, an auto repair service based in Charters Towers, QLD, proudly announces they are donating $5 to Breast Cancer Network Australia (BCNA) for each vehicle serviced in February 2016.
The owners of DTS, Shane and Tanya Downes, have a personal reason for their ongoing support and fundraising for BCNA. Tanya willingly shares, "this is a cause very close to my heart, after being diagnosed with breast cancer at the age of 36, just two months after starting the business in 2007."
As an outspoken cancer survivor, Tanya has inspired their service team to help raise awareness of the need for support for all Australians affected by breast cancer. On Fridays, the DTS men wear their bright pink shirts, sporting the clear message: Real Men Wear Pink!
This month, the DTS Service Centre team is raising the stakes by committing funds to the essential work done by BCNA. For every car, 4WD, ute, bus, truck or other vehicle serviced by one of the DTS professionals, the company will contribute $5 to the resources and services of BCNA.
The men and women of DTS Service Centre have been providing fast turnaround service on all types of vehicles for more than nine years. They understand the need to use state of the art diagnostic tools and components in order to ensure customer satisfaction and safety.
With this philosophy of service, the DTS specialists appreciate the way BCNA is committed to serving its network with the most up to date information, ensuring quality of care and ongoing support.
BCNA is a stellar advocate for all Australians affected by breast cancer. The network not only provides free information and support to patients, survivors, family and friends, but also makes resources available to breast care nurses and other healthcare professionals. The dedicated staff and many volunteers of BCNA work diligently to ensure treatment and care appropriate to individual needs from diagnosis to treatment and aftercare.
DTS Service Centre management and employees are pleased to do their part in raising awareness and funds for such a necessary service as Breast Cancer Network Australia. They know their $5 donation for every vehicle serviced at DTS in February 2016 is helping fund excellent work supporting those affected by breast cancer across the country.
See DTS Service Centre's website for more information on their commitment to Breast Cancer Network Australia.
For more information about us, please visit http://dtsservicecentre.com.au
Contact Info:
Name: Tanya Downes
Email: info@downtimesolutions.com.au
Organization: DTS Service Centre
Address: 7 Hugh Quinn Crescent, Cunningham Industrial Estate, CHARTERS TOWERS, Queensland
Phone: 07 4787 8782
Release ID: 104817
Go Top