Failed Home Foundations Are Now The Norm In Texas
Today's concrete home foundations are lacking sufficient concrete and steel rebar. They are termed "Minimally Functional" and a majority of homes in Texas will experience major damage and costly repairs.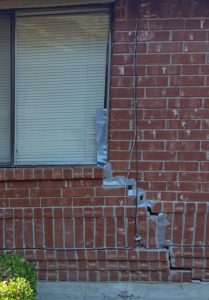 March 29, 2017 /AuthorityNewsNetwork/ —
"A significantly damaged, or failed home foundation, is now the most likely outcome for a majority of homeowners in Texas," states Martin Dawson of Dawson Foundation Repair in Houston. His opinion is based on 33 years of experience in the home foundation repair business and he refers to today's home foundations as "minimally functional."
"What I mean by 'minimally functional' is that the concrete slab is designed to outlast the home builder's 10 year warranty and built with a minimum of concrete and steel rebar," he mentions, "and after 10 years the home owner is out of luck. We see the greatest failure rates and the severest damage between the 10 and 20 year age time frame of the house. But with the droughts of 2011 and 2013 we saw failure rates skyrocket for homes under 10 years of age. Homeowners could easily be looking at $5,000 to $30,000 in under slab foundation work to stabilize and level their foundations. And that doesn't include the potential cost of under slab plumbing damage."
Mr. Dawson made it clear that his business is flourishing because the majority of home builders are building "minimally functional" concrete foundations. It is a multi-million dollar industry in Texas alone. "The true custom home builders are concerned about their reputation in the long term and they build their foundations with drilled piers, and / or more concrete and steel rebar. These homes have a far better chance of resisting the forces of soil movement over time. However, the vast majority of homes built in Texas are 'spec' homes and they are going to have significant foundation problems in the long term," states Mr. Dawson.
The basic problem is the soil, or the clay soil to be more accurate. Some parts of the country are cursed with clay soils and eastern half of Texas is one part. These clay soils swell in volume when wet and shrink in volume when dry. When the moisture content of the clay soils change it creates soil movement – up, down, and diagonal. Soil movement is a force of nature and it can overpower the thinner concrete slabs built under houses.
When asked about a solution Mr. Dawson said building codes should be revised and the government officials should listen very carefully to the structural engineers with experience in the field. He believes the easiest thing to do is to make concrete foundations several inches thicker and add more steel rebar. "Commercial buildings in Houston and eastern Texas have fewer foundation problems because they are built with more concrete and steel rebar. The foundations are thicker and stronger and better able to counter or resist the powerful stresses caused by soil movement," stated Mr. Dawson.
Liability is also part of the homeowner's puzzle. "It is very difficult to sue a residential home builder for a failed home foundation because of legal protections given to them by former Texas lawmakers," stated Mr. Dawson, "but it is much easier to sue a builder of a commercial building if the foundation fails because they have no similar legal protection. Therefore concrete slab foundations for commercial buildings are a lot stronger because the designer and the builder don't want to be sued."
Company Name: Dawson Foundation Repair
Contact Name: Martin Dawson
City: Houston
State: Texas
Country: USA
Phone: (713) 668-2110
Email: info@DawsonFoundationRepair.com
Website URL: http://DawsonFoundationRepair.com
Source URL: http://authoritynewsnetwork.com/failed-home-foundations-are-now-the-norm-in-texas/
Source: AuthorityNewsNetwork
Release ID: 181724
Go Top