How the Cannabis Industry Is Protecting Its Cash & Crop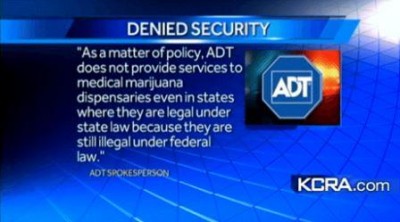 CORAL GABLES, FL / ACCESSWIRE / March 16, 2015 / A major debate has arisen with regard to the recent legalization efforts by states to support programs for recreational and medicinal marijuana. To date, nearly half of the US has some kind of law in place to govern the sale of cannabis. The takes into account several forms ranging from the raw plant to highly concentrated oils used for infusing edible products. At this point, no matter your stance, it seems as though the US is being taken by storm and a new industry is upon us. Not only does this open added opportunity for business owners to open their own dispensaries but it also creates an opening for other markets to enter the space.
A major void when it comes to marijuana sales is determining how to handle income from every day operations. Not only is marijuana not legal in roughly 50% of all US states but federally it is still considered a Schedule 1 substance and therefore not recognized by the banking system. The result: no place to deposit revenue (cash only revenue at that) besides a back room or storage facility. In essence the government has forced an industry slated for multi-billion dollar revenue to be limited to a "CASH ONLY" business.
The obvious pitfalls for dispensaries and grow operations are becoming painfully obvious; well, except for the cash being made hand over fist. So, what do you do with it when the banks won't accept it? You hire a company like Blue Line Protection Group, launched in August 2013 by Ted Daniels, a retired police officer and U.S. Army veteran. He has hired more than 40 guards, most with special ops experience to assist and ensure dispensary and grow farm owners' products, money, and most importantly, their lives are safe. A marijuana militia of sorts is building across the state and this isn't some small group of patriots either. This is becoming a force big enough to safeguard six-figure cash transports, seven-figure inventories and assets, and thousands of justifiably paranoid employees.
More Than Just a Guard Dog: From Security to Banking
Blue Line Protection Group, Inc. (BLPG) was Colorado's first security firm in the state dedicated to the marijuana industry once recreational usage went into effect. They've become a one-stop shop providing everything from day to day facilities security to full on asset logistics, transportation and storage of hard earned cash. (www.bluelineprotectiongroup.com). "If somebody robs a jewelry store for, 250 thousands dollars they might be able to fence that product on the street for 50, 60 thousand dollars at the most. Marijuana at this point, if you hit a grow operation and you got 250 thousand dollars worth of product, depending where in the country you move that, you can easily make 350 to 400 thousand on that product"- Ted Daniels of Blue Line Protection Group.
Blue Line has achieved the luxury of entering into the industry early and continues to secure a growing market share. To date, the firm boasts a laundry list of clients that include anything from in house guard services to full detail logistics transports. The company has also brought forth payment processing & banking solutions through joint ventures. In fact, the company has its own finance arm, Blue Line Finance Services. Blue Line Finance can provide what they deem as the complete "Seed-to-Bank(TM)" solution to help banks comply with all regulation dealing with having the proper monitoring and oversight of product and currency in the marijuana industry.
Interest From "Inc. Uncensored"
In a recent episode of "Inc. Uncensored", Inc. editor James Ledbetter and Inc. staff members Jon Fine, Christine Lagorio-Chafkin, and Will Yakowicz discuss the ins and outs of the legal marijuana business (Starts @ 9:15). Coincidentally they identified Blue Line as having strong financial makeup following the departure of Mr. Daniels and the implementation of Sean Campbell as CEO. Mr. Campbell's background in finance and working at MKM Capital Advisors was a big proponent to their take on how Blue Line is assuring compliance and proper monitoring for banking options for dispensaries like Medicine Man, a cannabiz valued at $30M. Currently Blue Line is beta testing kiosks and placing them into these client businesses, these businesses allow customers to choose their product, deposit their money and all audited to make sure the sales are compliant. This could lead to an incredible breakthrough for marijuana banking as it stands today, truly offering a Seed-to-Bank option.
Breaking Ground In The Market
Aside from being listed and contributing to the MJIC (Marijuana Index), Blue Line is also quickly gaining traction in the market. Not only does it hold a $20+M market cap, it has also begun to reach far beyond the Colorado market. In it's most recent quarterly filing, the Company states that it has begun to establish bases of operations and joint ventures in the states of Alaska, California, Illinois, Nevada, Oregon and Washington, as well as the District of Columbia. Management expressed that it is hopeful that these states will be accretive to earnings during the first quarter of fiscal 2015.
To this point, there are still only a handful of security companies within this young industry and most do not have the wealth of experience and business acumen in place to take on a national roll-out. In addition to that, not many are publicly traded for investors to take part in. Blue Line Protection trades under the ticker symbol (BLPG) on the OTCQB. Still in its infancy, the company has managed to maintain a revenue generating business model while achieving gross margins of 12%. This is to say that within the first full year that marijuana has been legalized, Blue Line has found a way to make the top line Black.
This isn't to assume that there weren't costs involved. As in any company, Blue Line has incurred significant expenses including advertising and professional fees accounting for over 50% of the company's expenses for 9 months ended Sept 30, 2014. On the balance sheet, the Company shows a paid in capital of just over $3m showing it has invested in the future of this venture.
Competition
This being said, the company has become more of a trailblazer than anything and when it comes to being first to market, brand recognition always takes a front row seat. Look at companies like ADT (NYSE:ADT) and Brinks Company (NYSE:BCO) or even those trading on the French exchange such as Loomis (FRA:K90) & Securitas (FRA:S7MB). All have become well established within the security and security systems space however it is companies like these, which currently do not hold any market share within the industry. ADT in particular has even gone as far as to release a formal statement after denying services to a customer for having an approved medical marijuana grow!
Conclusion
In looking at the market, there's an obvious need for banking and security services in the marijuana industry. The current landscape has offered more opportunity for "Home grown" firms like Blue Line to become well established within the space while many of the "would be" organizations like ADT and Brinks continue to shy away from the market even as more states continue to legalize marijuana. The industry for security services in the US alone is worth nearly $30,000,000,000 and on-site security guards for buildings and grounds are expected to account for 67.0% of industry revenue in 2014. This having been said, the potential opportunity at hand could be even that much more appealing as the current market is not only limited to the number of providers for dispensaries and grow-ops but new states continue to come online. With more than 500 dispensaries in Colorado alone, we would certainly assume that the need for security services (including armored transports) will continue to increase with the explosive market growth that the marijuana industry is experiencing.
About Marijuana Stocks (MarijuanaStocks.com)
Marijuana Stocks (http://marijuanastocks.com/how-the-marijuana-industry-is-protecting-its-cash-crop/) is your best resource for today's budding cannabis industry. Whether you're looking for the best marijuana stocks to buy, marijuana political news, trends and articles within the cannabis industry and so much more, MarijuanaStocks.com is your destination for it all. Our goal is to become the central hub for all who are seeking current Marijuana Stock News as well as cannabis industry, political and social news, articles, trends & overall insight, delivered in a way that we all can relate to.
SOURCE: MarijuanaStockes.com
ReleaseID: 426900
Go Top