Launch Recruitment Agency Sydney, Melbourne Celebrates 5k LinkedIn Followers
Launch Recruitment celebrates reaching 5k followers on LinkedIn & their 13 year anniversary & reveals some of its big wins & challenges so far. More info: https://www.launchrecruitment.com.au/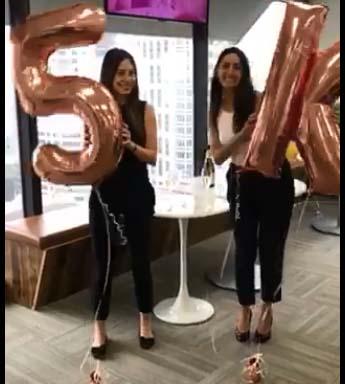 Sydney, Australia – May 31, 2018 /PressCable/ —
Launch Recruitment is celebrating reaching the 5000 follower milestone on LinkedIn. From the start, the Launch aim was to create a company based on strong values and has grown a great work environment. Launch has traded profitably since the start (in 2006) and have achieved their success with committed, professional staff and a culture of giving and social responsibility. This is a huge milestone for the Sydney CBD-based recruiter, which has provided recruiting services to companies in Project Services, IT Sales and Marketing, Infrastructure and Cloud, Digital, Telecommunications, Software/Application Development, Security, Business Intelligence/Analytics and Emerging Technology. For the last 13 years, the Launch team has placed permanent and contract staff across a range of role types.
Launch Recruitment got it's start in 2006 when founder Rebecca Wallace saw a need for high quality, candidate focused recruitment that values staff, clients and candidates equally.
One of the earliest challenges Launch Recruitment faced was establishing a presence in both Sydney and Melbourne in order to cater to the major capital centres of Australia. With the creation of the Brisbane office, Launch takes care of employers throughout Australia and in particular NSW, Victoria, South Australia and Queensland.
While every business faces challenges, some, like Launch Recruitment are fortunate enough to enjoy real successes, wins and victories too. One such victory came when reaching the 5000 follower milestone on LinkedIn recently. LinkedIn is an important resource for all recruitment companies, candidates and employers as a way to connect, share jobs and knowledge. Having such a huge following is definitely a significant milestone to have reached and is worth celebrating.
Amanda, Marketing Manager at Launch Recruitment was also quoted when discussing another big win. "2017 was a big year for Launch as a finalist in the industry leading SEEK Sara Awards in the Best Medium Recruitment Agency category. This followed our 2016 successes as Runner-Up for the Recruitment Leader of the Year 2016 award and the winner of the Social Responsibility Award 2016 from ITCRA. These were just a few big wins over the last couple of years and we look forward to 2018 being another successful year ahead."
Launch Recruitment's founder, Rebecca Wallace says "We're delighted to be celebrating 13 successful and profitable years in recruitment. I believe the secret to our success is due to Launch being a candidate focused recruitment company with an experienced, professional and dedicated staff. Our focus is on IT related industries and we place permanent, part time and temporary positions. On top of this, we encourage and enable gender diversity while placing highly skilled professionals."
Launch Recruitment currently consists of over 100 employees and has big plans for the upcoming year. One of their core objectives is their focus on gender diversity for both candidates and employers. Recent blog posts attest to this focus on taking gender bias out of the hiring process and encouraging gender diversity in the workplace. The Launch team know they have the ability to bring positive change to employers and companies who seek to hire special people to grow their business. As recruiters, we know that our efforts can have a lasting impact on the career and lives of the people we place and we do feel a responsibility for candidates' and clients' future happiness and work satisfaction.
<iframe src="https://www.facebook.com/plugins/video.php?href=https%3A%2F%2Fwww.facebook.com%2Flaunchrecruitment%2Fvideos%2F1638468442911094%2F&show_text=0&width=268″ width="268″ height="476″ style="border:none;overflow:hidden" scrolling="no" frameborder="0″ allowTransparency="true" allowFullScreen="true">
Launch Recruitment would also like to thank friends, customers and all its partners for their well wishes on this happy occasion.
Launch Recruitment offices can be found at:
23/9 Castlereagh St, Sydney NSW 2000 – Ph (02) 9232 8133
31/140 William St, Melbourne NSW 3000 – Ph (03) 9639 7611
22/69 Ann Street Brisbane QLD 4000 – Ph 1300 452 986
More information on the business can be found at https://www.launchrecruitment.com.au/
Contact Info:
Name: Amanda Sekulovska
Email: info@launchrecruitment.com.au
Organization: Launch Recruitment
Address: 23/9 Castlereagh St, Sydney, NSW 2000, Australia
Phone: +61-2-9232-8133
For more information, please visit https://www.launchrecruitment.com.au/
Source: PressCable
Release ID: 353656
Go Top