"LITTLE VOICE" (KOREAN DUBBING ACADEMY) HAD A GREAT STAND AT THE SETEC IN SEOUL.
"Little Voice" a vibrant Korean dubbing training institute for children -in English, Korean and Chinese- is set to open subsidiaries internationally and welcomes joint-venture partners.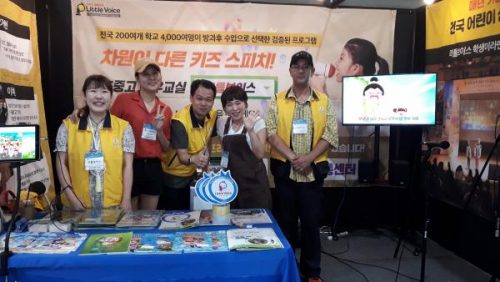 Seoul, Korea, Republic of – July 31, 2018 /PressCable/ —
Seoul, South Korea – August 2, 2018: "Little Voice", the growing Korean voice training company, has just announced that they have proudly participated in the Children's Education Fair at the SETEC exhibition hall in Seoul, South Korea, held from July 25 to 28, 2018. "Little Voice" is a renowned and dynamic education institute, installed and certified in 2014, for voice, dubbing and speech training, specifically aimed at children. At this inspiring educational exhibition, "Little Voice" held a popular and exciting stand, where youngsters and adults from all across South Korea -but not only- excitedly acquainted themselves, between friends or relatives, to the subtle art of dubbing.
"We cover a wide range of areas, specifically voice acting, dubbing classes, speech training," stated Mrs. Ji-Hyea KIM, founder and CEO of "Little Voice", while introducing her company. "We are immensely grateful to all people who visited our stand at the Children's Education Fair. It was a mutually enjoyable and fruitful experience. We introduced our art to the general public and welcomed countless participants, eager to jump in and joyfully practice voice-over on short animations, with energy, passion and sensitivity at our stand. We shared many a laugh!" As per Mrs. Kim, her company will increase its visibility and take part in as many public events as available, in order to increase awareness of and interest in the many benefits of voice education and the art of dubbing.
"Little Voice" already provides regular classes in well over a hundred of public schools and private academies in South Korea, thanks to its network of trained professional instructors. Education is particularly important in that country, including extra-curriculum training programs. Children, parents and education institutions appreciate these classes, as they provide a fun learning environment on stories children love, in Korean, English and Chinese. This training is intended to develop and master transferable skills, with gradually more challenging levels. Thus, youngsters are able of attend these training sessions with fun!
"For kids, in particular, our goal is to enable them to discover their emotions and learn to master them, in addition to improving their language and expression abilities, and being more aware of their energy levels", stated the CEO while explaining the advantages of her company's training programs. "Our next goal is soon to expand our expertise overseas, and reach more people. It is a strong feeling when children hear their own voices over beloved characters starring in cute stories. They are amazed and proud! We love that feeling and we share it!"
Furthermore, "Little Voice" and its sister company "VTV" ("Voice to Voice", specialized in dubbing instruction aimed at adults in a professional format) have plans to expand their top-of-the-notch dubbing of overseas audiovisual programs into Korean, for films, TV, animations, advertisements or games.
The website for "Little Voice" is http://www.littlevoice.co.kr/SE4P/main.asp
The website for "Little Voice" is http://www.voicetovoice.co.kr/main/
Contact Info:
Name: Mrs. KIM Ji-Hyea
Email: vovoschool@naver.com
Organization: Little Voice
Address: undefined, Seoul, Seoul 121-080, Korea, Republic of
Phone: +82-2-707-3311
For more information, please visit http://www.voicetovoice.co.kr/
Source: PressCable
Release ID: 386429
Go Top