Mental Health Watchdog Pledges to Fight for Elder Rights
Bringing to light the issue of elder abuse, the President of CCHR Florida and the founder of the Kasem Cares Foundation were joined by hundreds of concerned citizens pledging to fight for elder rights at an event designed to raise public awareness.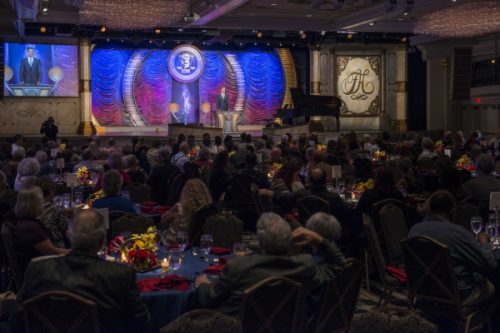 Clearwater, United States – June 12, 2017 /PressCable/ —
In honor of World Elder Abuse Awareness Month, the Citizens Commission on Human Rights (CCHR) of Florida, a non-profit mental health watchdog dedicated to exposing human rights violations as well as the protection of the elderly, pledged to fight for elder rights at their June 10th event held at the historic Fort Harrison.
Joined by hundreds of concerned citizens, the President CCHR Florida, Diane Stein, and featured speaker for the event, Kerri Kasem, founder of Kasem Cares, brought to light the issue of elder abuse at an event to raise awareness on this often unreported violation of rights.
Ms. Kasem, the daughter of well known and loved radio personality, Casey Kasem, told the story of her fight to see her father and how what she went through spurred her to start the Kasem Cares Foundation to establish and fight for the right to have visitation and reasonable access to an ailing parent.
Unfortunately, Ms. Kasem's ordeal is not uncommon. According to the National Council on Aging, as many as 5 million older Americans are abused each year with only about 1 in 14 cases reported to authorities. [1]
The 3 main areas that are rife with potential elder abuse according to CCHR are:
•Transfer trauma; which is the very real risk of death for an older person when they are relocated,
•Polypharmacy; which is simply the concurrent use of multiple medications including psychiatric drugs,
•Involuntary psychiatric examination and possible commitment, without due cause or eligibility. This is called Baker Acting in Florida.
In 2015, 13,856 individuals 65 and older were sent for involuntary psychiatric examination in Florida. Though this is only about 7% of the total number of initiated involuntary examinations, these initiations present a real danger of harm being caused through the transfer of senior citizens from long-term care facilities to Baker Act facilities.[2]
In response to these alarming statistics, CCHR Florida launched a campaign in 2016 to raise awareness on the abuse suffered by the elderly under the mental health law especially the unnecessary and potentially harmful involuntary psychiatric examination of seniors.
However, the abusive Baker Acting of seniors is not the only human rights violation of concern. The dangerous trend of polypharmacy within the senior population prompted CCHR to demand earlier this year that the Department of Elder Affairs investigate the alarming rise in older adults who are prescribed psychotropic drugs.
Polypharmacy, the concurrent use of multiple medications, has doubled in the last decade among retirement-age Americans despite warnings from geriatric medical organizations and office visits resulting in this type of multiple pharmaceutical prescription rising from 1.5 million in 2004 to 3.68 million in 2013 with rural areas showing the greatest increase.[3]
To help protect the elderly from unnecessary and potentially harmful treatment, CCHR under the legal direction of attorneys has made available a legally binding document, referred to as "The Psychiatric Living Will" as well as a Non-Consent form that may assist in preventing an unwarranted involuntary examination.
This document allows an individual to specifically express their wishes, and to make advance decisions to refuse medications or hospitalization, refuse consent for electroconvulsive therapy (ECT), or other procedures.
CCHR also offers a free workshop on the "Psychiatric Living Will" known in Florida as an Advance Mental Health Directive. This workshop is delivered by an attorney and clearly explains all the details of this document and how to use it.
"Seniors need to know their rights, they need to know how to protect themselves," said Diane Stein, President CCHR Florida. "This workshop will educate people on their rights and how a declaration can protect them from unwanted and even dangerous psychiatric drugs and procedures."
For more information on the banquet or the protection of elder rights under the mental health law please call 727-442-8820 or visit www.cchrflorida.org.
About CCHR:
Initially established by the Church of Scientology and renowned psychiatrist Dr. Thomas Szasz in 1969, CCHR's mission is to eradicate abuses committed under the guise of mental health and enact patient and consumer protections. It was L. Ron Hubbard, the founder of Scientology, who brought the terror of psychiatric imprisonment to the notice of the world. In March 1969, he said, "Thousands and thousands are seized without process of law, every week, over the 'free world' tortured, castrated, killed. All in the name of 'mental health.'" For more information visit, www.cchrflorida.org
[1] How many older Americans are abused? ncoa.org/public-policy-action/elder-justice/elder-abuse-facts/
[2] A Brief Literature Review of the Effects of Relocation on the Elderly heu.org/sites/default/files/uploads/research_reports/HEU_Literature_Review_Sept23_2002.pdf
[3] Sharp Rise Reported in Older Americans' Use of Multiple Psychotropic Drugs, Benedict Carey – February 13, 2017 nytimes.com/2017/02/13/health/psychiatric-drugs-prescriptions.html?_r=1
Contact Info:
Name: Diane Stein
Email: publicaffairs@cchrflorida.org
Organization: Citizens Commission on Human Rights of Florida
Address: 109 North Fort Harrison Avenue, Clearwater, Florida 33755, United States
Phone: +1-727-442-8820
For more information, please visit http://www.cchrflorida.org/
Source: PressCable
Release ID: 207183
Go Top