Mission: CONTROL!: A Big Feelings Adventure! by Nan Arkwright 70+ Amazon Reviews
Nan Arkwright's book – Mission: CONTROL!: A Big Feelings Adventure! – has just topped 70 Amazon Reviews with a 4.9/5 score. It's an engaging children's book that takes readers on a thrilling intergalactic journey, teaching valuable lessons about self-control and emotional regulation.
Walnut Creek, California, United States – May 24, 2023 /MarketersMEDIA/ —
In "Mission: CONTROL!: A Big Feelings Adventure!" by Nan Arkwright, young readers are taken on a thrilling intergalactic journey that explores the power of self-control and emotional regulation. Through the captivating story of Joseph, a young boy whose tantrum launches him into outer space, Arkwright skillfully weaves a tale that teaches valuable lessons about managing emotions and facing challenges.
Here is the Amazon link – https://www.amazon.com/Mission-Control-Big-Feelings-Adventure/dp/1736583514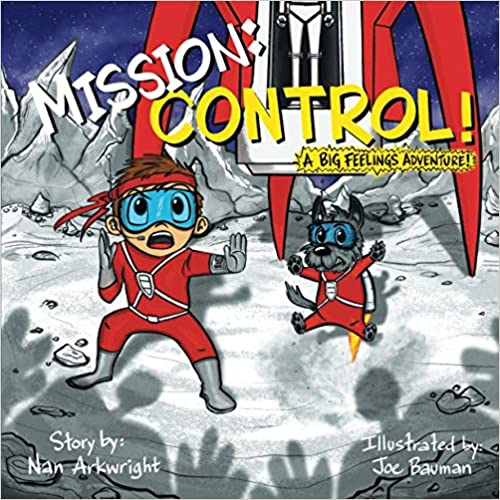 The book opens with Joseph's meltdown when his mom tells him to turn off the TV. This tantrum catapults him into an adventure on Planet Kelvin 273, where he must confront the Green Hypnozoids and their hypnotizing powers. Joined by his loyal dog Gretchen, Joseph embarks on a quest to gather the self-control necessary to defeat the aliens and regain command over his emotions.
Arkwright's narrative effortlessly engages young readers, drawing them into Joseph's world and capturing their attention from start to finish. The imaginative storyline serves as a metaphorical journey through the realms of emotions, providing children with relatable experiences and empowering messages. Through Joseph's encounters with the Green Hypnozoids, readers witness the importance of self-control and the potential consequences of unchecked emotions.
One of the book's greatest strengths is its ability to address anger and emotional reactions in a non-threatening and entertaining manner. Arkwright skillfully introduces tools and strategies for managing big feelings, enabling children to understand the importance of self-regulation. The inclusion of parents as role models who support and assist their children in managing their emotions further enhances the book's relevance and impact.
The author's background as an occupational therapist specializing in working with dysregulated children is evident throughout the book. Arkwright seamlessly integrates therapeutic concepts into the narrative, providing valuable insights into the thinking processes of children and offering practical solutions for emotional challenges. The story also encourages open conversations between children and caregivers, fostering a deeper understanding of emotions and promoting healthy coping mechanisms.
Illustrator Joe Bauman's vibrant and expressive artwork adds depth and visual appeal to the story. The illustrations beautifully complement the narrative, capturing the characters' emotions and enhancing the overall reading experience.
"Mission: CONTROL!: A Big Feelings Adventure!" is not only an entertaining and engaging story; it also serves as a valuable resource for building social-emotional skills in children. The book presents a creative view of the flight-or-fight response and offers practical tools for managing emotions effectively. The author's Parent Power Packs, which provide additional resources and guidance, further enhance the book's value for parents, teachers, therapists, and caregivers.
In conclusion, Nan Arkwright's "Mission: CONTROL!: A Big Feelings Adventure!" is a remarkable children's book that combines an exciting narrative with important lessons about emotional regulation and resilience. Through relatable characters and a captivating storyline, Arkwright skillfully addresses the challenges children face in managing their emotions. This book is an essential addition to any library, empowering young readers to navigate their feelings and embark on their own missions of self-discovery and growth.
About Us: Nan Arkwright is a registered and licensed occupational therapist who has practiced for more than 20 years in a variety of settings, including schools. In her private practice, she works with children from ages 2 through middle school with a variety of diagnoses.
She is a member of SCBWI (Society of Children's Books Writers and Illustrators, and WCCW (West Coast Christian Writers) and Flourish Writers.
Contact Info:
Name: Nan Arkwright
Email: Send Email
Organization: A Hop Skip & A Jump Ahead
Address: 614 Ahwahnee Ct, Walnut Creek, CA 94596
Phone: 925-930-6292
Website: https://www.ahopskipandajumpahead.com/
Release ID: 89098345
If you detect any issues, problems, or errors in this press release content, kindly contact error@releasecontact.com to notify us. We will respond and rectify the situation in the next 8 hours.
Go Top