Morehouse Instrument Company launches a new, advanced, budget load cell simulator.
The new Model 8 Morehouse Budget Load Cell Simulator increases customer confidence in their high-end meters by allowing them to check equipment quickly.
Pennsylvania, United States – October 6, 2022 —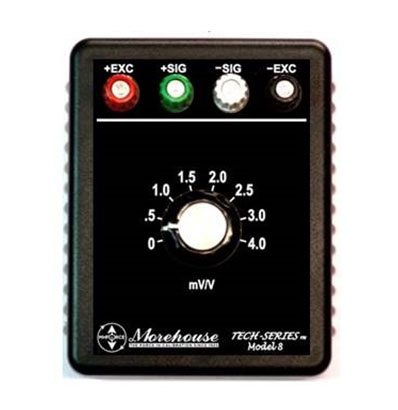 Morehouse Instrument Company is excited to announce the launch of their new cutting-edge budget load cell simulator. This is close to a laboratory-grade compact, lightweight resistance box that can be a helpful tool in troubleshooting equipment problems; the load cell simulator can be used to verify meters are reading correctly, span meters, and as a check, standard to help control drift associated with many digital meters.
The Morehouse Model 8 Budget Load Cell Simulator can help check for meter issues and help control the stability and drift of meters; this is important is if someone inputs a wrong value into the meter, it often goes undetected until it is too late, and a large amount of rework could be needed. Stability is a significant error source, and the Morehouse Model 8 Load Cell Simulator can help isolate whether the meter or load cell is drifting. If the problem is with the meter, the end-user can decide to replace it, which creates huge savings by not having to shorten calibration intervals.
"We are launching our new advanced budget load cell simulator to help our customers quickly diagnose issues, perform much-needed cross-checks, and verify the indicator settings meaning programmed values or coefficients have been entered correctly. This will surely help reduce large error sources and help our customers have more confidence in their force measurements," says Henry Zumbrun, President of Morehouse, "Our Model 8 Load Cell Simulator is low cost, with potentially big savings to anyone looking for a tool that can save countless hours of unnecessary troubleshooting".
Top features and benefits of Morehouse Model 8 Load Cell Simulator Include:
Perform multiple cross-checks on equipment with eight mV/V settings;
Help control stability/drift;
Verify coefficients are correctly entered in Morehouse 4215 plus, C705P meter; both use
the actual coefficients from the calibration report;
Verify coefficients for other programs such as Morehouse calibration software;
Check for linearity issues in any meter;
Use as a diagnostic tool to rule out the load cell meter, leaving the load cell, cables, or
adapters as the issue;
Can be used to calibrate A/D offset and gain setting;
Standardize and set up a new indicator before system calibration.
About Morehouse Instrument Company
Based in York, PA, Morehouse Instrument Company has been a leading name in the American and international industry-grade equipment manufacturing scene for over a century. Founded in 1920, the company specializes in providing cutting-edge calibration products and services that are intelligently designed to reduce measurement risk. Morehouse Instrument Company is renowned for its industry-leading calibration machines, load cells, load cell accessories, and more. The company has worked for a list of elite clientele worldwide, ranging from NASA to NPL to the US Air Force, and more.
For more information, please visit https://mhforce.com/product/budget-load-cell-simulator/
Contact Info:
Name: Henry Zumbrun
Email: Send Email
Organization: Morehouse Instrument Company
Address: 1742 Sixth Ave York, PA 17403
Phone: 717-843-0081
Website: https://mhforce.com/
Release ID: 89082689
If you detect any issues, problems, or errors in this press release content, kindly contact error@releasecontact.com to notify us. We will respond and rectify the situation in the next 8 hours.
Go Top