One Act Inc. Runs PieceX, The First Global AI-Powered Source Code Marketplace
United States – August 31, 2022 —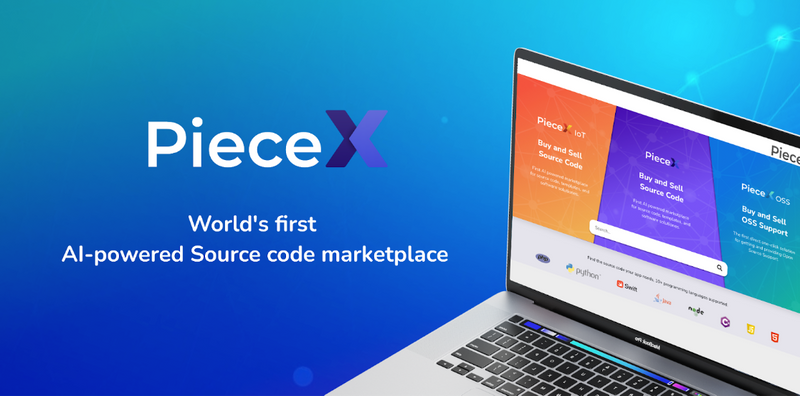 Whether it is Full-App Source Code or specific script, finding the correct Software Components needed to complete any software project can prove to be difficult.
Tech companies spend a lot of time and resources building their software projects from the ground up and so they are well-aware of how much they can save by using vetted pre-inspected Source Code that they can freely customize according to their requirements.
According to global market surveys, the world needs a system where software modules can be obtained off the shelf, especially in the era of Software Development; a system that would change the way businesses develop their tech.
PieceX has become a go-to solution for this unfulfilled need by disrupting the software market and being the first global AI-Powered Marketplace for buying and selling Source Code.
PieceX is helping companies become in control of their solutions by empowering them to purchase/use the source code they need without having to resort to third party development companies.
This gives enterprises complete control over the source code and software modules they purchase. The PieceX Marketplace is created to be a simple one-stop solution, providing a centralized system for users to browse, buy and sell software modules that suit their needs.
With a development-centric business model, PieceX allows for infinite profitability for projects provided by worldwide software development companies. Every single source code listed has limitless earning potential depending on the scale of the project (small to enterprise), the advertisement of it, and the quality of the source code provided.
The PieceX Platform has 3 main solutions in its Marketplace, PieceX Source Codes, PieceX OSS, and PieceX IoT.
PieceX OSS (Open Source Support) serves the open source community by allowing users of source code to buy support for the code they are using and allowing software developers to provide the community with the assistance they need and generate steady revenue.
PieceX IoT (Internet of Things) is a new solution that allows providing software solutions for specific hardware, this allows hardware sellers to market for their hardware and software developers to provide solutions for specific hardware to further increase efficiency and automation cycles.
With more than 46,000+ transactions, and 63,000+ users worldwide, many Software Engineers and Software Development Companies list their source code projects and first-rate modules for sale on the Marketplace generating hundreds of thousands in revenue for their respective developers.
This also means that buyers have access to a wide variety of ready-to-use Solutions, all listed and ready for sale in real-time on the platform.
With revolutionary patented AI technology, PieceX has become one of the market leaders, creating a one-of-a-kind platform with a simple browsing, searching, buying, and selling process.
PieceX is home to all possible types of source code and scripts for various categories and industries. Whether you need a fully-fledged software that includes all the basic features or you need a particular script for a feature that you need to add to your software, you can find all your software component needs at PieceX. The most popular categories in the platform include Mobile Apps, Fintech Solutions, Cryptocurrency, and Ecommerce.
In addition to being the first global AI-powered source code marketplace, PieceX provides the tech community with 100% inspected projects, making all the products purchased guaranteed. It is a great place for companies and individuals alike to find the perfect code for their software project or to generate a revenue stream from selling and listing their Source Code.
Press Contacts:-
Yusuke Asano, Founder & CEO
USA:-
One Act US Inc. (info-us@one-act-us.com)
2450 Colorado Avenue,
Suite 100E, Santa Monica,
California, 90404, USA
Japan:-
One Act Inc. (info@oneact.jp)
405, Inoue BLDG 2, 2-17-13
Nihonbashi Kayabacho
Tokyo, 103-0025, Japan
Media Contacts:-
https://www.facebook.com/piece.exchange/
https://www.linkedin.com/in/piecex/
Source: One Act US, Inc.
Contact Info:
Name: Yusuke Asano, Founder & CEO
Email: Send Email
Organization: PieceX
Website: https://www.piecex.com/
Release ID: 89080935
If you detect any issues, problems, or errors in this press release content, kindly contact error@releasecontact.com to notify us. We will respond and rectify the situation in the next 8 hours.
Go Top