Rapid Adoption in Packaging Application is Driving the Microprinting Market, Says Meticulous Research®
Microprinting Market by Substrate Type (Paper, Plastic, Metal), End-use Industry, Application (ID Cards, Labels, Stamps, Bank Cheques, Corporate, Defence, Others), Colour (Monochrome and Colour), Pattern (Infrared Ink Marking, UV Invisible Marking, Micro Embossing, Magnetic Ink, Special Ink), Print Type (Single-sided, Double sided), and Region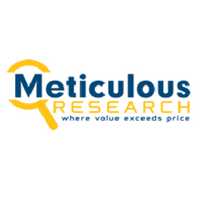 Pune, India – June 30, 2019 /MarketersMedia/ —
Meticulous Research® – leading global market research company is researching on Microprinting market titled "Microprinting Market by Substrate Type (Paper, Plastic, Metal), End-use Industry (Healthcare, Education, Government, BFSI, Consumer Electronics, Packaging, Transportation and logistics, Others), Applications (ID Cards, Labels, Stamps, Bank Cheques, Corporate, Defence, Others), Colour (Monochrome and Colour), Pattern (Infrared Ink Marking, UV Invisible Marking, Micro Embossing, Magnetic Ink, Special Ink), Print Type (Single-sided, Double sided) and Region – Global Forecast to 2025".
Rapid growth in the e-commerce sector is forcing industries to provide proper packing and identification facilities for avoiding duplication, and this is driving the growth of microprinting market. Moreover, increasing adoption of microprinting technique for proper packaging in order to avoid duplication and ease of identification; rapidly increasing demand for high-quality secured prints to identify and discriminate diverse packaged products; and increasing adoption of microprinting techniques in passports, identity cards, and other important documents in several organizations is also driving the growth of microprinting market.
Download free sample report and gain crucial industry insights @ https://www.meticulousresearch.com/download-sample-report/cp_id=5017
The Banking and Finance Segment is Expected to Witness the Highest CAGR during the Forecast Period
Based on end-use industry, the microprinting market is segmented into healthcare, education, government, BFSI, consumer electronics, packaging, transportation & logistics, and others. Among these, the BFSI segment is projected to grow at the highest rate in the coming years. The adoption of this printing technique is growing rapidly in the BFSI domain for anti-counterfeit tools and printers for fraudulent deterrence. Mostly, the banks are integrating advanced security facilities to protect bank currency from counterfeiting.
Single-Sided Print Type to Witness Fastest CAGR During the Forecast Period
Based on print type, the microprinting market is segmented into single sided and double sided microprinting. Among these, single-sided microprinting is expected to account for a larger share of the global microprinting market. The growth is mainly attributed to the wide acceptance of single-sided microprinting for employee and membership ID cards, mostly in government, education, and corporate applications. Also, increasing adoption of microprinted postage stamps and event badges are further pushing up the microprinting market.
Asia-Pacific: The Fastest Growing Regional Market
Geographically, North America, comprising the U.S. and Canada, accounted for the largest share of the global market. However, Asia-Pacific is expected to witness rapid growth during the forecast period. Many banks, government financial, and corporate organizations are available in this region which are noticing increased use of microprinting technology-based printers. Increasing development activities and rapid economic expansion in the Asia-pacific region are expected to witness the high growth in the microprinting market. Moreover, standards and regulations in the banking sector, expanding e-commerce sector, and technological advancement in microprinting technology in BFSI domain are the key factors driving the growth of the Asia-Pacific microprinting market.
Key Players
The key players operating in the global microprinting market are Source Technologies (US), Domino Printing Sciences PLC (UK), Hewlett-Packard Company (US), Xerox Corporation (US), Videojet Technologies, Inc. (US), Brady Corporation (US), Huber Group (India), Team NiSCA (US), Diagramm Health GmbH & Co. KG (Germany), Micro Format, Inc. (US), William Frick & Company (US), Gallas Label & Decal (US), Zebra Technologies Corporation (US), Printegra (US), Matica Technologies AG (Germany), and Ricoh Company Ltd. (Japan).
Browse in depth report: https://www.meticulousresearch.com/product/microprinting-market-research-5017/
Key Topics Covered in This Report:
1 Introduction to Microprinting Market
1.1 Market definition
1.2 Scope of study
1.3 Global Microprinting Market Ecosystem
1.4 Currency & Limitation
1.4.1 Currency
1.4.2 Limitations
1.5 Key Stakeholders
2 Research Methodology
2.1 Research Process
2.1.1 Secondary Research
2.1.2 Primary Research
2.1.3 Market Analytics
2.1.4 Assumptions
3 Executive Summary
4 Market Insights
4.1 Introduction
4.2 Market Dynamics
4.2.1 Drivers
4.2.2 Restraints
4.2.3 Opportunities
4.2.4 Challenges
4.2.5 Trends
4.3 Regulatory Analysis
4.4 Market Share Analysis, by Key Player
5 Microprinting Market, by Substrate Type
5.1 Paper
5.2 Plastic
5.3 Metal
6 Microprinting Market, by End-use Industry
6.1 Healthcare
6.2 Education
6.3 Government
6.4 BFSI
6.5 Consumer Electronics
6.6 Packaging
6.7 Transportation and Logistics
6.8 Others
7 Microprinting Market, by Application
7.1 ID Cards
7.2 Labels
7.3 Stamps
7.4 Bank Cheques
7.5 Corporate
7.6 Defence
7.7 Others
8 Microprinting Market, by Colours
8.1 Monocrome
8.2 Colour
9 Microprinting Market, by Pattern
9.1 Infrared Ink Marking
9.2 UV invisible Marking
9.3 Microemboissing
9.4 Magnetic Ink
9.5 Special Ink
10 Microprinting Market, by Print Type
10.1 Single Sided Print
10.2 Double Sided Print
11 Microprinting Market, by region
11.1 North America
11.1.1 U.S.
11.1.2 Canada
11.2 Europe
11.2.1 UK
11.2.2 Germany
11.2.3 France
11.2.4 Italy
11.2.5 Spain
11.2.6 Rest of Europe
11.3 Asia-Pacific
11.3.1 China
11.3.2 India
11.3.3 Japan
11.3.4 Rest of Asia-Pacific
11.4 Rest of World
11.4.1 Latin America
11.4.2 The Middle East and Africa
12 Microprinting Market- Competitive Landscape
12.1 Acquisitions
12.2 Expansions
12.3 New Product Launches and Upgradations
12.4 Agreements and Partnerships
12.5 Competitive Benchmarking
13 Company Profiles
13.1 Source Technologies
13.2 Domino Printing Sciences PLC
13.3 Hewlett-Packard Company
13.4 Xerox Corporation
13.5 Videojet Technologies Inc.
13.6 Brady Inc.
13.7 Huber Group
13.8 Team NiSCA
13.9 Diagramm Halbach GmbH & Co. KG
13.1 Micro Format Inc.
13.11 William Frick & Company
13.12 Gallas Label & Decal
13.13 Zebra Technologies Corporation
13.14 Printegra
13.15 Matica Technologies AG
13.16 Ricoh Company Ltd.
14 Appendix
14.1 Questionnaire
Download free sample report and gain crucial industry insights @ https://www.meticulousresearch.com/download-sample-report/cp_id=5017
Contact Info:
Name: Khushal
Email: Send Email
Organization: Meticulous Market Research Pvt. Ltd.
Address: Pune, India
Phone: +91-744-7780008
Website: https://www.meticulousresearch.com/product/microprinting-market-research-5017/
Source URL: https://marketersmedia.com/rapid-adoption-in-packaging-application-is-driving-the-microprinting-market-says-meticulous-research/88891214
Source: MarketersMedia
Release ID: 88891214
Go Top