Renowned AZ Cancer Care Center Promotes IV Vitamin C Benefits In Online Series
Renowned Arizona-based alternative cancer treatment center An Oasis of Healing is publishing a seven-part online series of informative blog posts detailing the proven benefits of Vitamin C IV Therapy for cancer care.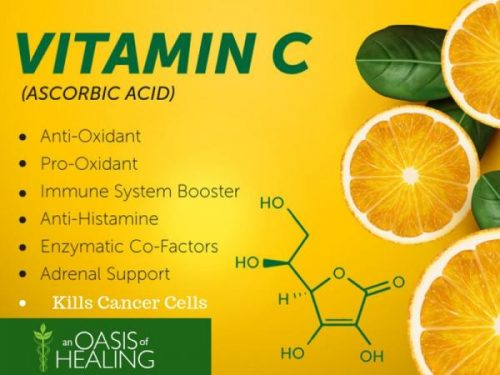 Mesa, United States – February 28, 2019 /PressCable/ —
Mesa, AZ (February 25, 2019) – Many people know Vitamin C as an anti-oxidant and as an immune system booster but in a latest series of informative blog posts, one doctor emphasizes the healing benefits of Vitamin C.
In his latest post, Dr. Nathan Goodyear, senior medical staff member at An Oasis of Healing, points to the vital importance of high-dose Vitamin C IV therapy in cancer treatment. An Oasis of Healing is a renowned alternative cancer care center based in Arizona.
According to Dr. Goodyear, the benefits of IV Vitamin C as part of cancer treatment are well-documented in close to 3,000 published articles in various medical publications. This includes publications such as PubMed which has a database with more than 29 million citations for biomedical literature from MEDLINE, life science journals and online books. It is maintained by the United States National Library of Medicine at the National Institutes of Health as part of a system of information retrieval.
Published evidence suggests that IV Vitamin C is beneficial in reducing the side effects and toxicity of conventional cancer treatments like chemotherapy and radiation while at the same time augmenting its cancer kill rate; helping reduce pain; decreasing cancer-associated inflammation; boosting energy and appetite; combating infections and improving overall quality of life and chances of survival.
Dr. Goodyear said, "Anytime a treatment is safe and has high benefits—that it kills cancer cells, prolongs survival, improves quality of life and is natural—that should be a winner in everybody's game in the fight against cancer."
High-dose Vitamin C therapy is one of the IV therapies administered in An Oasis of Healing, as part of its holistic cancer care treatments. It serves to challenge cancer cells at a metabolic level without damaging the healthy cells. For many cancer patients, IV therapies are more effective for better absorption and higher level of plasma for many macronutrients.
"Is vitamin C safe? Check. Is vitamin C effective? Check. Is there evidence to support the safe and effective use of IV vitamin C in the treatment of cancer? Check times 2,746 articles and thousands upon thousands of patient cases," he added. "We encourage patients to check our website and follow our blog series for medically backed information on alternative cancer treatments. This way, they can make fully informed decisions before committing to a treatment plan."
Visit the An Oasis of Healing website to find out more about the three-pronged Oasis School of Life, developed by founder and integrative oncology expert Dr. Thomas Lodi, which has helped hundreds of cancer patients regain a second lease in life.
An Oasis of Healing is located at 210 N Center St #102, Mesa, AZ 85201, call 480-834-5414.
Contact Info:
Name: Clothilde Canale
Organization: An Oasis of Healing
Address: 210 North Center Street, Mesa, Arizona 85201, United States
Website: http://www.anoasisofhealing.com/
Source: PressCable
Release ID: 486835
Go Top