Sierra Brava Lodges Boosts Efforts To Provide The Best Argentina Hunting & Fishing Experiences As The Country Reopens Its Borders
As Argentina reopens to international tourists on November 1st, Sierra Brava is leading the way in welcoming travelers around the world looking for the finest hunting and fishing lodges in South America.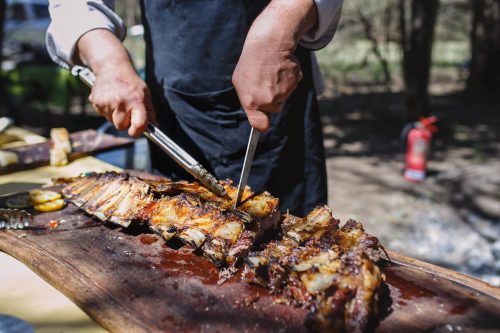 October 26, 2021 —
Despite pandemic-induced restrictions, in their effort to provide an even better service, Sierra Brava Lodges has scaled up its renowned Argentina dove hunting services while expanding their line of products. They have built two new, amazing lodges in the best and most diverse areas of Argentina, each one with unique products for your enjoyment.
Sierra Brava Lodges is now comprised of the three best-in-class hunting and fishing lodges in Argentina: Sierra Brava, Rio Bravo, and Bravo Sur.
Sierra Brava Lodge in Cordoba is an excellent pick for high-volume dove hunting and pigeon hunting. Cordoba is the world's most exclusive and revered dove hunting destination with estimated dove populations topping 50 million, no bag limits, and a season open year-round.
Rio Bravo Lodge, by the famous Parana River, is an excellent choice for duck, dove and perdiz hunting along with fantastic fishing for golden dorado. Rio Bravo Lodge provides hunters with the opportunity to shoot different species of birds in one place, without changing locations. You can hunt 15 species of ducks which will vary according to the time of the year, whistling ducks, teals and rosey billed are some of the most common in the area.
Last but not least, Bravo Sur Lodge is where extraordinary fly fishing happens in the beautiful rivers and lakes of Northern Patagonia. Bravo Sur professional fishing guides will lead you through these pristine waters with absolutely no fishing pressure. Discover the secrets of these rivers and lakes and enjoy the ultimate Argentinean fly-fishing adventure.
With the reopening of borders, JJ encourages hunters to get their shoulders ready for non-stop recoil. Sierra Brava's personal hunting assistants are the fastest around and are always in good spirits for a delightful day of hunting!
After a phenomenal day of hunting or fishing, travelers can take a well-deserved pause and unwind. Whether having a relaxing jacuzzi bath or drinking the world's finest wines around the fire pit, they are assured of the best sizzling, mouth-watering steak dinner they would ever have in their lives.
Sierra Brava Lodges are owned by JJ, Topo, and 3 US partners who have been operating dove hunting in Argentina for over 20 years, with only one goal in mind: to provide friends around the world with the best hunting and fishing experience of their lives.
"Groups with multiple hunters are able to reserve an entire lodge for a private retreat in a tranquil setting with breathtaking lakefront, river and sierra mountain views at affordable rates that no other Argentina hunting and fishing lodges can beat," says JJ Sala, co-owner of Sierra Brava Lodges
In a review, Jonathan Rolader described Sierra Brava as an amazing place where they celebrated his son's graduation from high school.
"This is what my son wanted for a graduation present since he was 8. Sierra Barra treated us like family, and the bird hunting was better than we could have ever dreamed," Jonathan wrote in a review.
A recurrent guest, Gert Steenekamp, lauded Sierra Brava's team of professionals for the high and professional standard of accommodation.
"Everything was better than we expected. Thank you for your good communication from meeting you in Vegas up to the conclusion of our trip. The dove shooting really is high volume and makes every shooter enjoy every minute to the fullest. The bird boys are on top of their game, and their positive spirit and excitement are addictive," Gert wrote in a separate review.
Travelers who wish for an Argentina hunting & fishing adventure can start packing their bags and contact the Sierra Brava Lodges team for reservations. Hurry up! availability is going fast. They can also learn more about Sierra Brava by visiting its website.
Contact Info:
Name: Juan Jose Sala
Email: Send Email
Organization: Sierra Brava Lodges
Address: Argentina
Phone: +1 (213) 263-3683
Website: https://sierrabrava.com
Release ID: 89050577
Go Top