STEP is The World's First Air Purifierwith CO2 cleaning capabilities
Live on Kickstarter, STEP is a True HEPA air purifier with the ability to fight climate change.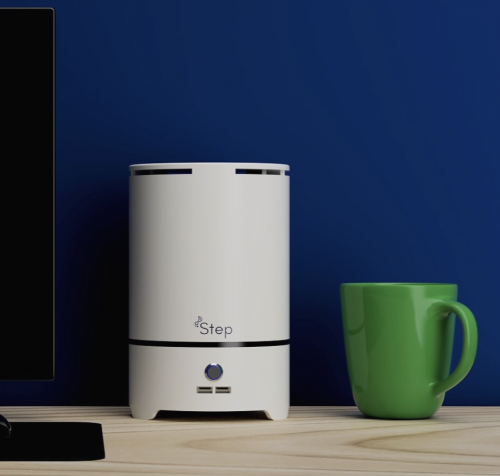 Virginia Beach, United States – August 27, 2021 /MarketersMedia/ —
STEP, the world's first air purifier capable of cleaning carbon monoxide by Footeprint, is live on global crowdfunding platform Kickstarter and raising funds to bring the project to life.
Each year a single household can create between 20 and 60 tons of CO2 annually. While it is easy for many to visualize physical litter such as trash and plastics, carbon monoxide is the invisible danger contributing to an overall greenhouse effect in the atmosphere. STEP is the world's first device designed for home use to directly reverse carbon air pollution, providing users with cleaner air and a cleaner conscious.
"STEP was initially a project of curiosity, to see if individuals could remove carbon dioxide effectively. What was once a small garage project turned into a passionate 8 month pursuit of how it could be done and how would one add function to it?" says creator and founder Stefan Schweers on the inspiration behind the project. "I showed my work to some scientists across the country and they said I should start a company. You could say this project happened by accident."
By combining modern air purifier technology with Direct Air Carbon Capture (DACC) methods, Footeprint has for the first time been able to bring point capture systems into home and office spaces. STEP utilizes limestone in its carbon filters which have an averaged 1:2 capture weight ratio during lab and field trials. STEP also uses a patent-pending method of distributive collection which further reduces the carbon footprint before, during and after every sale. Every filter replacement comes with a pre-paid return label to ensure exhausted filters return to the workshop for recycling and CO2 extraction.
STEP was intended for every-day individual usage, so the purifier's sleek design can fit any personal desktop space while still incorporating user-practicality. It quietly purifies at 20-30db, measures approximately 8.85" x 5.65" and offers low power consumption (3-27W). An app for the device is also in development which provides information on user's total contribution and outer environmental resources to further reduce their overall impact.
"No air purifiers on the market collects CO2. No good carbon capture units can fit in your house. STEP not only meets these two markets in the middle, it can scale further into either market depending on what consumers want," adds Schweers. "Want cleaner air in your home? Increase the max air flow of the design. Want to reduce your carbon footprint more? Increase the max CO2 the filter can hold. The simplicity of the technology is what allows STEP to be so flexible."
The Footeprint STEP is currently live and available to support on Kickstarter: www.kickstarter.com/projects/footeprint/step-co2-air-purifier
About Footeprint
Footeprint is a company developing real world solutions to abstract problems, in this case climate change.By finding the intersection between industrial systems and home goods, Footeprint has been able to find unique and impactful solutions that not only reduce individual carbon footprints, but also reward the user for that effort.
For more information on Footeprint please visit: www.footeprint.net
###
Contact Info:
Name: Chris Woods
Email: Send Email
Organization: Footeprint
Website: https://www.footeprint.net
Source URL: https://marketersmedia.com/step-is-the-worlds-first-air-purifierwith-co2-cleaning-capabilities/89043437
Source: MarketersMedia
Release ID: 89043437
Go Top