Swop Launches A Revolutionary App That Connects The Digital World In One Tap
United States – July 30, 2022 —
Swop, a game-changing platform, allows users to create digital identities/profiles and share them with the world via NFC technology.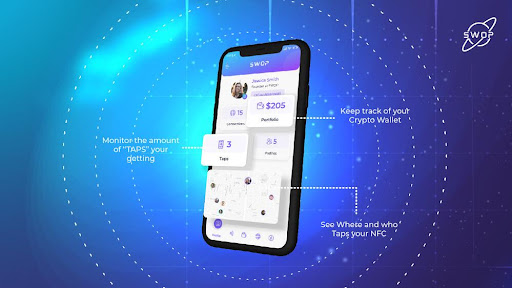 Swop has launched a game-changing business tool that allows users to interact and share data and transact using NFC(Near Field Communication) technology.
As the ultimate business platform, Swop does this by providing an easy-to-use website builder, which provides the user with a shareable URL. Users can create up to 5 of these websites and use the NFC/QR to direct their users where they need to go. These websites or "microsite" are attached to a main or "parent" profile that is used to track various data like how many visitors you've and connections you have made.
Connections help the business connect with people in a more efficient way than traditional methods by helping users keep all of their connections, which are people or businesses information, in one easy to navigate profile. The profiles can have a variety of information like crypto payment information, social media, venmo, website, or upload something custom.
"On a fundamental level, Swop is a platform to connect people. Compared to its competitors, Swop currently has more tools and capabilities, including the most innovative and secure NFC technology, which enables users to perform secure transactions, exchange digital content, and connect electronic devices with convenience," says Travis Herron, Swop CEO.
However, on a more extensive picture level, Swop will be the platform where users connect and interact with people in the physical and digital world. When they connect with someone on Swop, they are in their database and easily accessible.
For example, when someone goes to a restaurant with Swop, apart from seeing all the information like menus and social media, the person can connect with the establishment where it can utilize a personal connection to incentivize the person to come back.
Swop will have a non custodial(controlled by user with private key) crypto wallet attached to the users website So now for example a food establishment can now send or airdrop NFTs or tokens to all of their "connections", and these NFTs can represent a discount or free item. This adds a whole new path to market to the customer and connect with next to no cost that couldn't be done previously.
Afterward, the customer who wants to redeem the discount or item shows up at the store and taps the NFC. The restaurant has an NFC/microsite that is the point of sale device for this. The restaurant could also now crypto payments in USDC using the swop ecosystem. The system takes accessibility to the next level by offering only about a penny per transaction using blockchains like polygon, compared to traditional payment portals that take 3%.
Similarly, the combination of the Swop EVM and Swop Web3 browser allow the users to process this transaction since Swop is building their own EVM or layer 2 to provide low cost transactions and easy to use DAPPS(decentralized app/ bypasses gatekeepers like apple/android app store) that let users process these transactions on a secure, transparent blockchain.
"The combination of making a Swop digital identity, our NFC, and our blockchain portion allows all of this to work in harmony," says Travis.
Swop, now available for download on both Play Store and Appstore, serves as an all-in-one solution for the modern entrepreneur. Subscribe and download the app to be eligible to receive the airdrop that will be given as a thank you to all the early users. The token will act as a utility token to use the various tools the swop ecosystem will offer. Crypto Portion is aiming for release in early 2023.
Google Play Store: https://play.google.com/store/apps/details?id=com.travisheron.swop&hl=en&gl=BD
Apple Store: https://apps.apple.com/us/app/swop-connecting-the-world/id1593201322
These profiles have various use cases, including a digital business card that they can customize, a dog tag for their furry kids, a lead generator for individuals to fill out their information on checkout, a direct link to socials, and the ability to send payments or receive payments with a tap.
A verified user wrote in a review: "Swop app makes networking easier than ever. Share information and links with ease. This app runs very smoothly. Can't wait for the crypto portion to go live."
Another user commended the team for taking networking to the next level.
"This has made networking so much easier for me with everything all in one place! The dog tag feature is a nice touch, too," the user wrote.
Those who want to learn more about Swop and its innovative and unique features may visit the website for more information.
Contact Info:
Name: Travis Herron
Email: Send Email
Organization: Swop
Address: United States
Website: https://www.swopme.co/
Release ID: 89079199
If you detect any issues, problems, or errors in this press release content, kindly contact error@releasecontact.com to notify us. We will respond and rectify the situation in the next 8 hours.
Go Top