Sydney Web Design Company Launch: Progressive Web App & Responsive Website Offer
Go Viral Now offers its Website and PWA Deal. Get a Progressive Web App with every new and responsive website – for new and existing customers. Further information: https://www.GoMobileWeb.com.au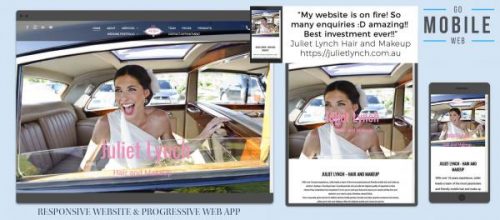 Coogee, Australia – October 31, 2018 /PressCable/ —
Sydney web design firm, Go Viral Now, has launched a new responsive website with Progressive Web App package deal for small to medium business owners. With the launch of our Progressive Web Apps (PWA), Go Viral Now are offering a free PWA with every responsive website ordered before end November, 2018 through their new CMS platform at GoMobileWeb.com.au
Business owners who want to get the most out of their website by turning more traffic into sales and customers, will benefit from receiving a Progressive Web App with every new responsive web build. Google's consumer barometer shows that close to 50% of consumers use 3 devices at one time. At the same time, about 67% of users will start shopping on one device, usually mobile, and complete their order on another device. This demonstrates that it is more important than ever for businesses to have a fully responsive website that works seamlessly on all devices.
Go Viral Now has implemented this new element to its responsive website packages to benefit both new and existing customers. Whether it's the first web development or time for an upgrade, the PWA with Responsive Website package will give any business the upper hand.
Some of the benefits of PWA's include: they are blazing fast, available on all devices, keep clients loyal and don't need to be installed from the App or Play Stores. By taking away the need to login and install from another website (Apple App or Google Play Store) a PWA is much more likely to be taken up than traditional native mobile apps because of the ease and security they offer.
Specifically, this new offer will deliver a stunning new, responsive website that looks great on all devices (desktop PC/Mac, tablet/iPad, iPhone/Android phones) has unlimited pages plus a Progressive Web App that works just like a native app without the cost and time required to develop, upload and install from the App/Play Stores like traditional apps. Go Viral Now has been able to do this by upgrading and updating our website dashboard and technology.
Additionally, Apple have recently allowed for PWA's on their iPhones and iPads through an update to their own Safari browser. This has brought Apple into line with Android phones and the Chrome, Edge, Firefox and Opera browsers. This change made PWA's more accessible, easy to install, super fast to use and provides your website information right on the client's homescreen with the click of a button. No need to search Google or type in a web address to find you. Just a click on the app icon on the homescreen and the PWA is available, both on and offline.
To take full advantage of this new update and have a Progressive Web App included with every new responsive website build, customers can order and view examples on the portfolio website at https://www.GoMobileWeb.com.au
Go Viral Now is excited to unveil the latest benefit for current and new "Responsive Website and PWA Deal" customers as it's specifically designed to meet the needs of small to medium sized business owners.
On this subject, Tess Robinson, Owner of Go Viral Now said: "Being at the forefront of the Progressive Web App revolution, your business will stay one step ahead of the competition. You can stand out from the rest by offering your customers the easiest and fastest way to stay connected with you while you'll have a stunning, new and modern responsive website that has options for insite personalisations. Insites give you the opportunity to offer coupons, deals and offers depending on the time of visit, location, number of times the person has visited your site before and more. PWA's and Insites let you stand out from the crowd. With the added design and other options of video backgrounds, click to call, turn by turn directions on Google maps, online payments as well as a booking/online calendar, your customers will be able to easily contact you, book and pay for your products or services. "
Go Viral Now has made a point of listening to its customers and taking feedback wherever possible. They do this because they feel their business exists to help businesses make more sales and turn more website visitors into calls, bookings and profit. It is common to hear that a company website doesn't bring in much, if any, new business. The fact is, a well built website and strategic online presence can be a major source of revenue.
Being mobile is essential now that so many people conduct a large part of their online activities on their mobile device. Go Viral Now's aim is to help turn more website visitors into customers and profits.
Having been in business now for over 9 years, Go Viral Now strives to help SMB's increase their website's ROI and turn more visitors into customers. This dedication has meant that much of their business comes through word of mouth recommendations. Go Viral Now are known to achieve high results for clients and their many public reviews and testimonials are testament to this.
Go Viral Now (and Go Mobile Web's) websites are known to be fast, SEO friendly and secure. They take the worry out of running a website since all site maintenance is taken care of, including the latest security features and on site statistics. These sites won't be hacked or compromised. Since PWA's only work on secure sites, your progressive web app will also be safe to use.
Interested parties who would like to be among the first to experience a Progressive Web App included with every new responsive website build through Go Viral Now are encouraged to visit the portfolio website at https://www.GoMobileWeb.com.au for full details and to get started. Find out more about Go Viral Now.
Contact Info:
Name: Tess Robinson
Organization: Go Viral Now
Address: 3 Baden St, Coogee, NSW 2034, Australia
For more information, please visit https://www.GoViralNow.net
Source: PressCable
Release ID: 435880
Go Top