The Explosion of mHealth Apps Drives the Market for Healthcare Cloud Computing
Healthcare Cloud Computing Market by Application (Clinical Information Systems, Nonclinical Information Systems), Service Model (SAAS, IASS, PAAS), Deployment Model (Private cloud, Public cloud, Hybrid Cloud), Pricing Model (Pay-as-you-go, Spot Pricing), Component (Services, Software), End User(Healthcare Providers, Healthcare Payers) – Global Forecast to 2025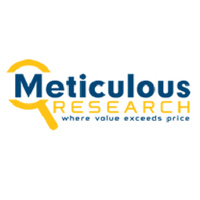 Pune, India – June 28, 2019 /MarketersMedia/ —
Meticulous Research® published a new report title "Healthcare Cloud Computing Market by Application (Clinical Information Systems, Nonclinical Information Systems), Service Model (SAAD, IASS, PAAS), Deployment Model (Private cloud, Public cloud), Pricing Model (Pay-as-you-go, Spot Pricing), Component (Services, Software), End User – Global Forecast to 2025".
Mobile health (mHealth) applications on smart phone are increasingly being used to enable healthy living and health prevention. The convergence of ubiquitous smartphones, broadband networks, and the ease of developing and marketing applications has resulted in an explosion of mobile health (mHealth) solutions for health and wellness. mHealth applications use a cloud computing technology to perform the key back-end related services, extending their computational capacity and storage capabilities. Additionally, data gathered by remote monitoring solutions can also be stored in the cloud and integrated with cloud based EHRs and even non-cloud applications. For instance, in Europe, home healthcare programs, telecare and telemedicine initiatives have been an important driver in cloud adoption. In home healthcare, cloud also enables leveraging the capabilities of social networks in serving continuity of care purposes. It enhances collaboration and coordination from hospital to home across the care team, including patients and the wider community. The mobile health app market has developed into a vivid ecosystem; a market that is not only dynamic but also offers great potential. Hence, with the rising adoption of mobile in the healthcare industry, the business opportunity for cloud computing is immense.
Download free sample report and crucial industry insights that will help your business grow:
https://www.meticulousresearch.com/download-sample-report/cp_id=5000
The Clinical Information Systems Segment Commanded the Largest Share of the Global Market in 2018
Based on application, the healthcare cloud computing is segmented into clinical information systems and the nonclinical information systems. In 2018, the clinical information systems segment is accounted for the largest share of the global market. The large share of this segment can be primarily attributed to rising prevalence of chronic disease and rising geriatric population.
The Private Cloud Segment Commanded the Largest Market Share of the Market in 2018
Based on deployment model, the healthcare cloud computing market is segmented into private cloud, hybrid cloud, and public cloud models. In 2018, the private cloud segment is accounted for the largest share of the global market. The large share of this segment can be primarily attributed to its higher adoption owing to its better security.
North America: Leading Regional Market
In terms of geography, North America, comprising the U.S. and Canada, is accounted for the largest market share of the global market in 2018. The overall growth of the market in North America is primarily driven by increasing adoption of EHRs among medical professionals and active participation by private sector players in the development of the healthcare industry in that region.
Key Players
The key players operating in the global healthcare cloud computing market are CareCloud Corporation, ClearData Networks Inc., Athenahealth, Cerner Corporation, Epic Systems Corporation, NextGen Healthcare, Carestream Corporation, Dell Inc., DICOM Grid Inc., INFINITT Healthcare, Sectra AB, Merge Healthcare Inc., Siemens Healthineers, iTelagen Inc., NTT DATA Corporation, Nuance Communications, and Ambra Health.
Browse in depth report: https://www.meticulousresearch.com/product/healthcare-cloud-computing-market-5000/
Key Topics Covered in This Report :
1 Introduction to Healthcare Cloud Computing Market
1.1 Market definition
1.2 Scope of study
1.3 Global Healthcare Cloud Computing Market Ecosystem
1.3.1 Healthcare Cloud Computing Market, by Application
1.3.2 Healthcare Cloud Computing Market, by Service Model
1.3.3 Healthcare Cloud Computing Market, by Deployment Model
1.3.4 Healthcare Cloud Computing Market, by Pricing Model
1.3.5 Healthcare Cloud Computing Market, by Component
1.3.6 Healthcare Cloud Computing Market, by End User
1.4 Research Methodology
1.4.1 Secondary Research
1.4.2 Primary Research
1.4.3 Market Analytics
1.4.4 Assumptions
1.4.5 Limitations
2 Executive Summary
3 Market Insights
3.1 Drivers
3.2 Restraints
3.3 Opportunities
3.4 Challenges
3.6 Market Share Analysis, By Key Player
3.7 Regulatory Analysis
4 Healthcare Cloud Computing Market, by Application
4.1 Clinical Information Systems
4.1.1 Electronic Medical Records (EMR)
4.1.2 Picture Archiving & Communication Systems (PACS), Vendor-Neutral Archives and Image Sharing (VNA), and Image Sharing Solutions
4.1.3 Population Health Management (PHM)
4.1.4 Telehealth
4.1.5 Laboratory Information Management Systems (LIMS)
4.1.6 Pharmacy Information Systems (PIS)
4.1.7 Radiology Information Systems (RIS)
4.1.8 Others
4.2 Non-Clinical Information Systems
4.2.1 Revenue Cycle Management (RCM)
4.2.2 Billing and Accounts Management
4.2.3 Financial Management
4.2.4 Health Information Exchange (HIE)
4.2.5 Fraud Management
4.2.6 Supply Chain Management
4.2.7 Others
5 Healthcare Cloud Computing Market, by Service Model
5.1 Software-as-a-service (SaaS)
5.2 Infrastructure-as-a-service (IaaS)
5.3 Platform-as-a-service (PaaS)
6 Healthcare Cloud Computing Market, by Deployment Model
6.1 Private Cloud
6.2 Hybrid Cloud
6.3 Public Cloud
7 Healthcare Cloud Computing Market, by Pricing Model
7.1 Pay-as-you-go
7.2 Spot Pricing
8 Healthcare Cloud Computing Market, by Component
8.1 Services
8.2 Software
9 Healthcare Cloud Computing Market, by End User
9.1 Healthcare Providers
9.2 Healthcare Payers
10 Global Healthcare Cloud Computing Market, By Region
10.1 North America
10.1.1 U.S.
10.1.2 Canada
10.2 Europe
10.2.1 UK
10.2.2 Germany
10.2.3 France
10.2.4 Italy
10.2.5 Spain
10.2.6 Rest of Europe
10.3 Asia-Pacific
10.3.1 China
10.3.2 India
10.3.3 Japan
10.3.4 Rest of Asia-Pacific
10.4 Rest of World
10.4.1 Latin America
10.4.2 The Middle East and Africa
11 Global Healthcare Cloud Computing Market-Competitive Landscape
11.1 Acquisitions
11.2 Expansions
11.3 New Product Launches and Upgradation
11.4 Agreements and Partnerships
12 Company Profiles
12.1 CareCloud Corporation
12.2 ClearData Networks Inc.
12.3 Athenahealth
12.4 Cerner Corporation
12.5 Epic Systems Corporation
12.6 NextGen Healthcare
12.7 Carestream Corporation
12.8 Dell Inc.
12.9 DICOM Grid Inc.
12.10 INFINITT Healthcare
12.11 Sectra AB
12.12 Merge Healthcare Inc.
12.13 Siemens Healthineers
12.14 iTelagen Inc.
12.15 NTT DATA Corporation
12.16 Nuance Communications
12.17 Ambra Health
12.18 IBM Corporation
13. Apendix
13.1 Questionnaire
13.2 Available Customization
Download free sample report and crucial industry insights that will help your business grow:
https://www.meticulousresearch.com/download-sample-report/cp_id=5000
Contact Info:
Name: Khushal
Email: Send Email
Organization: Meticulous Market Research Pvt. Ltd.
Address: Pune, India
Phone: +91 744-7780008
Website: https://www.meticulousresearch.com/product/healthcare-cloud-computing-market-5000/
Source URL: https://marketersmedia.com/the-explosion-of-mhealth-apps-drives-the-market-for-healthcare-cloud-computing/88891085
Source: MarketersMedia
Release ID: 88891085
Go Top