UK Youth Soccer Player Sean Black Completes Successful Season With Southern Connecticut State University
Sean Black has now completed his first season with Southern Connecticut State University, and is aiming to make the All Academic Team en route to earning his professional soccer debut.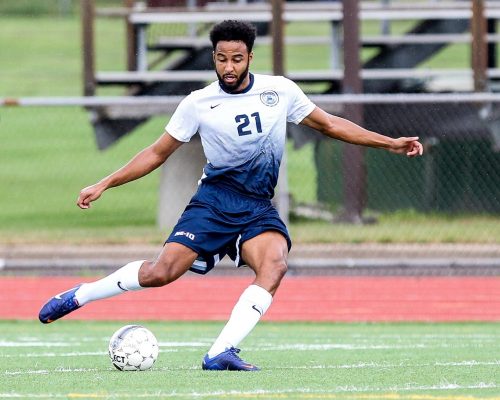 New Haven, CT , United States – July 31, 2016 /MarketersMedia/ —
The UK is the home of soccer, the most popular sport in the world. The game is hugely popular throughout Europe, and is gaining traction in the USA after the US team performed commendably in the last World Cup. As a result, American colleges and universities are now starting to recruit some of England's finest hopefuls. Rollins College in Orlando, Florida identified one such talent, and signed Sean Black. Sean attended the Pass4Soccer Showcase in London and has trained alongside some of soccer's household names, and has now transferred to Southern Connecticut State University (http://www.southernctowls.com/roster.aspx?rp_id=4254), where he is looking to continue his success on and off the field, in the classroom.
Sean Black was a two-year team captain at high school, and won various player of the year awards alongside league and county cup titles, he was later named the Academic Athlete of the year. Making him a perfect candidate for college soccer teams, Rollins College recognized this and recruited him to play for the Men's Soccer team.
Once transferred to Southern Connecticut State University, he earned a 3.7 GPA in his first year, making the Dean's list, and was selected for the Northeast-10 Commissioner's Honor Roll. This year, he is gunning to make the All Academic Team, and hopes he can make the step up to a professional team in the US.
A spokesperson for Sean Black explained, "Sean has done tremendously well in transitioning to America. It is important to understand that he has been successful in exceling not just on the pitch but in his academic studies, all while in an entirely different system to the one he is familiar with. This speaks to his tenacity and drive to succeed, and we have every confidence he will continue to develop into a star player with the Southern Owls, with a bright future ahead of him. We wish him the very best in his pursuit of success at Southern this year."
About Sean Black: Sean Black is a sophomore student from London, England, who plans to major in Business. He is a college soccer player, representing Southern Connecticut State University in the NCAA Division II. With numerous achievements already to his name, he plans to build toward a professional soccer career in the US.
For more information, please visit http://www.southernctowls.com/roster.aspx?rp_id=4254
Contact Info:
Name: PRWhirlWind
Organization: PRWhirlWind
Address: 100 washington ave
Phone: 2032035555
Source: http://marketersmedia.com/uk-youth-soccer-player-sean-black-completes-successful-season-with-southern-connecticut-state-university/125822
Release ID: 125822
Go Top