This landscape contractor is selected often by Catholic Churches as well as other commercial projects. Their ability to think outside the box is the key to their success.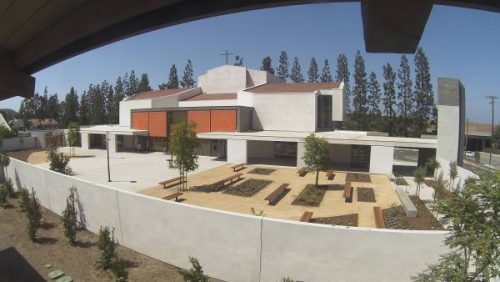 Pico Rivera, United States – June 30, 2018 /PressCable/ —
St. John Vianney Catholic Church in Hacienda Heights chose Siapin Horticulture for their landscape project based on their reputation and previous work with other Catholic churches in Southern California. The church was named after John Vianney, a French parish priest born in 1786.
"Jean-Baptiste-Marie Vianney, T.O.S.F. (8 May 1786 – 4 August 1859), commonly known in English as St. John Vianney, was a French parish priest who is venerated in the Catholic Church as a saint and as the patron saint of parish priests. He is often referred to as the "Curé d'Ars" (i.e., Parish Priest of Ars), internationally known for his priestly and pastoral work in his parish in Ars, France, because of the radical spiritual transformation of the community and its surroundings. Catholics attribute this to his saintly life, mortification, his persevering ministry in the sacrament of confession, and his ardent devotion to the Blessed Virgin Mary. His feast day is 4 August."
"There are dozens of institutions, including schools, seminaries, and churches named after Vianney in countries including Belize, Brazil, Canada, Guatemala, Haiti, Ireland, India, Pakistan, Philippines, England, United States, and Nigeria."
The history of Jean-Bapptiste-Marie Vianney and the struggle that the Catholic Church went through in the late 1790's is interesting reading. If you'd like to learn a little more, click here.
Being chosen to do a landscape project for this church was truly an honor, knowing the rich history of the patriarch.
This project included a "smart" low volume automatic drip irrigation system with flow sensor and master valve to control excess water usage. Large specimen Olive trees were boxed for re-planting. California native and drought tolerant trees, shrubs and succulent groundcovers were also used. To finish the project, natural decomposed granite paving was put into the chapel garden patios.
Siapin Horticulture is a third-generation landscape contractor with a reputation as the go-to- landscape contractor for many general contractors. One general contractor said, "When I want the job done right the first time, Siapin Horticulture is my first choice."
If you're looking for a first grade landscape contractor, you can't go wrong by choosing Siapin Horticulture,
Contact Info:
Name: Dan Siapin
Email: dan@siapin.com
Organization: Siapin Horticulture, Inc.
Address: 9103 Perkins St., Pico Rivera, CA 90660, United States
Phone: +1-562-801-9722
For more information, please visit https://siapinhorticulture.com/
Source: PressCable
Release ID: 369874