As fall approaches in the beautiful state of Georgia, Braswell Construction Group, a leading roofing expert, is committed to helping homeowners prepare their roofs for the season's challenges.
Covington, Georgia, United States – October 4, 2023 —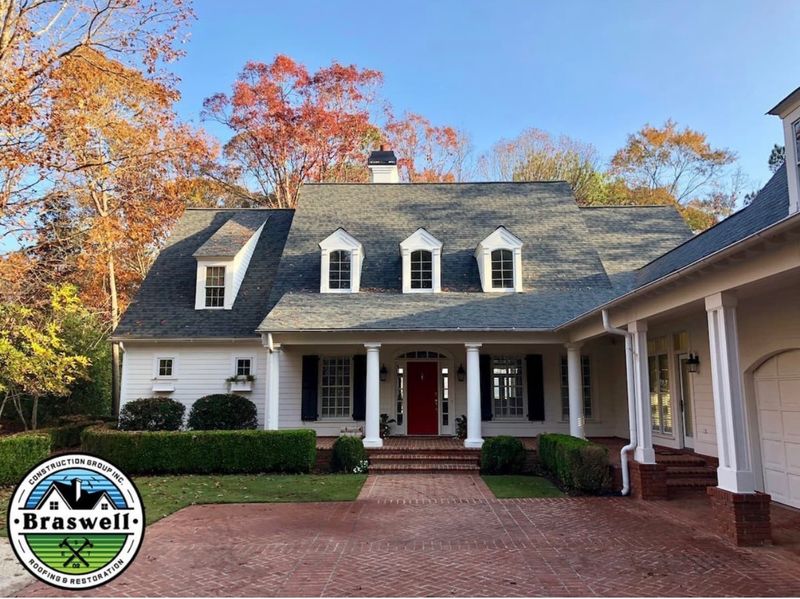 Fall in Georgia brings heavy rains and occasional storms, making it crucial for homeowners to take proactive steps to protect their roofs and homes. Braswell Construction Group presents a comprehensive roof maintenance checklist to guide you through the necessary steps for a secure and protected home throughout the fall season.
Cleaning Gutters and Downspouts:
Braswell Construction Group advises homeowners to start their fall roof maintenance by cleaning gutters and downspouts. Over the summer, leaves, twigs, and debris can accumulate, clogging the drainage system. Clogged gutters can lead to water overflowing onto the roof and causing damage. A thorough cleaning ensures that water flows away from the roof effectively.
Inspecting Shingles and Flashing:
The summer sun can take a toll on roofing shingles, making it essential to inspect for signs of damage such as cracks, curling, or missing pieces. Homeowners should also pay close attention to flashing around chimneys, vents, and skylights, as damaged flashing can lead to leaks. Braswell Construction Group recommends addressing any issues promptly to avoid more extensive damage during fall storms.
Dealing with Moss and Algae:
Georgia's humid climate encourages the growth of moss and algae on roofs, which can deteriorate shingles over time. A professional roof cleaning service can remove moss and algae, preventing further damage. Fall is an ideal time for this maintenance task, as it helps protect roofs throughout the rainy season.
Checking for Leaks and Water Damage:
Before the fall rains set in, Braswell Construction Group encourages homeowners to inspect their attics or the interior of their homes for signs of water damage. This includes looking for discolored spots on the ceiling, damp insulation, or visible leaks. Detecting and repairing leaks early can prevent costly damage and ensure homes stay dry during fall storms.
Trimming Overhanging Branches:
While trees provide shade and beauty, overhanging branches can pose a risk to roofs during storms. Braswell Construction Group advises homeowners to trim back branches that are close to or touching the roof to prevent them from falling onto or scraping against it during high winds.
Scheduling a Professional Roof Inspection:
As part of fall preparations, Braswell Construction Group recommends homeowners schedule a professional roof inspection. Experienced roofers can identify hidden issues, assess the condition of roofing materials, and provide recommendations for any necessary repairs or replacements.
Braswell Construction Group emphasizes that preparing roofs for the fall months in Georgia is a proactive step in safeguarding homes from potential roofing disasters. By following this comprehensive roof maintenance checklist, homeowners can address common issues, prevent leaks, and ensure their roofs are ready to face the challenges of fall. For any concerns or problems identified during inspections, Braswell Construction Group is available to provide expert assistance and ensure homeowners have a well-maintained roof that enhances their home's protection and provides peace of mind as the seasons change.
About Braswell Construction Group: Pioneering Roofing Excellence with Unrivaled Specialization
Braswell Construction Group boldly leads the way in the realm of specialized roofing, proudly bearing an impressive array of accolades, including the esteemed titles of Brava Preferred Contractor, DaVinci Roofer Masterpiece Contractor, and Owens Corning Platinum Preferred Contractor. Since its inception in 2002, BCG has remained a steadfastly local entity, wholly committed to delivering a unique blend of unparalleled craftsmanship, exceptional customer service, and unwavering commitment to project timelines.
A Tapestry of Excellence Woven into Every Service
At the core of BCG's ethos resides an unyielding commitment to customer satisfaction. Their dedication to providing exceptional service, underscored by the punctual completion of each project, weaves a personalized touch into every endeavor, ensuring that quality and customer-centric values stand hand in hand.
A National Spotlight, A Local Impact
BCG's influence transcends local boundaries, earning them well-deserved recognition from prominent platforms such as Yahoo Finance, Big News Network, ABC, FOX, CBS, RoofingContractor.com, US Reporter, and Atlanta Leader. This recognition serves as a testament to their role as roofing trailblazers, not only within Georgia but on a national stage.
Comprehensive Coverage Encompassing Georgia
With strategic hubs located in Greensboro/Lake Oconee, Covington/Conyers, Stone Mountain, and Atlanta, BCG's reach extends across crucial regions of Georgia and Alabama. This expansive coverage reflects their unswerving commitment to providing roofing and restoration solutions that are tailored to meet the unique needs of homeowners.
Braswell Construction Group epitomizes the pinnacle of roofing excellence, seamlessly melding specialized expertise, unwavering customer focus, and industry acclaim to set unprecedented standards in the roofing domain.
Contact Info:
Name: Michelle Bird
Email: Send Email
Organization: Braswell Construction Group, Inc. Roofing & Restoration
Address: 6105 Emory St NW, Covington, GA 30014, United States
Phone: 678-283-2551
Website: https://www.braswellconstructiongroup.com
Release ID: 89109245
In the event of detecting errors, concerns, or irregularities in the content shared in this press release that require attention or if there is a need for a press release takedown, we kindly request that you inform us promptly by contacting error@releasecontact.com. Our dedicated team will promptly address your feedback within 8 hours and take necessary actions to resolve any identified issues diligently or guide you through the removal process. Providing accurate and dependable information is our utmost priority.